Well…..after over 36 hours of driving and logging nearly 2,000 miles on Kenz's car, we are finally home.
Thanks you to all who prayed for us, especially when you knew how bad the weather was in Kentucky, Ohio and Tennessee. We battled ice and snow all the way home and had to stop half way and stay a night in Cincinnati due to the crawling traffic.
We had a fabulous time at the Homeschool Mom's Afternoon out in Cincinnati and made many new friends. The couple who booked me for the event, the Deans, were gracious and fun with helpful kids and the cutest little dog you ever saw! My only regret was that I forgot my camera so I can't post any pictures of the event here. Bummer.
Then, Kenz and I had a fast and fun three college tour of Tennessee. She actually landed an n-the-spot audition for a theatre department scholarship at Lipscomb Christian college in Nashville. Luckily our friend Cheri Keaggy– Dove Award winning artist and fly-by-the-seat-of-her-pants-accompanist, braved the bad weather to play for Kenzie's audition. What a gem.
Our sweet and beautiful friend Cheri Keaggy.
Also, I was able to spend time at my friend Micca's house, visiting with her crack-up hubby Pat and getting to know her fun and sweet kids Parker and Peyton. Most of the time I spent curled up on her couch, sipping coffee with tiramisu creamer and talking with her about the Lord.
I tell you, that girl is better than church!!!
The wonderful Bible teacher Micca. The gorgeous picture of southern hospitality!!!
Then we pulled off a big surprise on Kenzie's friend Danya, musical daughter of my friend, author and speaker Rebecca. We showed up at a restaurant they were eating at and had a great visit. What fun!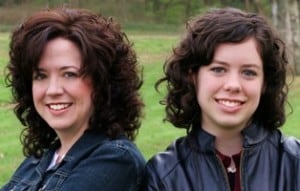 Rebecca and Danya. You can hardly tell them apart. They look more like siblings than mother and daughter! I don't know what skin cream she uses, but I want me a gallon of it, pronto!!!!
Now….back to reality.
I have been home less than 24 hours. Mitchell knocked his front tooth loose at basketball last night requiring an emergency trip to the dentist and a lovely temporary silver bracket. And my sweet, dear, love-to-help-around-the-house hubby pitched a ratty, torn pair of Spencer's jeans in the trash while I was gone.
Um…..uh……they were his costume for the Teenworks Homeschool Academy play tonight…..
Oops!
I'm off to bleach and rip a pair of jeans.
Fast.
We leave in about an hour. YIKES!!!
Home-Sweet-Home Blessings,
Karen