Okay…..so we are pretty new to our subdivision having only moved in last July. And we noticed something right off the bat.
People in this development care deeply about their yards; their lawns, flower beds, landscaping, etc…   They take great pride in pruning and weeding and watering and fertilizing. Oh yeah, and several of them apparently have leftover money in their budget to pay the True Green man to do it for them!!!
Well, while we are not usually to into "keeping up with the Joneses" (evident by our rusting minivan, dinosaur computer and hand-me-down-from-Craig's List furnishings), we have tried to keep up with the whole lovely lawn game. We landscaped before Kenzie's open house in May with many perennial cuttings from friends and a few purchased plants from a local nursery. And for Father's Day, we got Todd one of those little tractor sprinklers that move on their own around the lawn while you water. We chuckle when we see it chug-chug-chuggin' away in our yard in the midst of the other neighbors and their under ground sprinkler systems.
So, imagine our horror when Spence decided to have a Slip and Slide party with a few neighborhood boys which resulted in a not-so-nice lawn problem. Ever the resourceful and creative type, he got out a huge tarp, some dish soap and a water hose. Voila!!! Our front yard (which is a slight hill) became the subdivision's water-park attraction. They only trouble was that Mr. Fun and Games doesn't always think through things logically.
When the water was turned off, he left the tarp on the lawn. For several hours. The result? A perfect patch of rectangular brown. You could see for yourself if…...ahem……a certain person, in their attempts to free up some space on MY memory card, hadn't deleted the picture I took of it!! The unnamed person did, however, in an attempt to avoid  sleeping on the couch tonight, find a picture on the Internet that looks very similar to the turf in question. Only it was much, much bigger.  Here it is: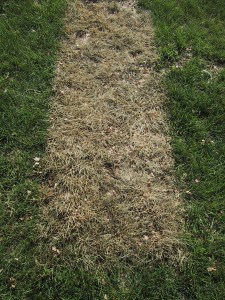 Suffice it to say, it was pretty bad. Brown, burnt, ugly bad. And with our home being on a slight hill, all who drive by can see its awful ugliness.
But I decided NOT to over-react. Grass grows back. Kid's wounded feelings…not so much. I had to look for the good in my creative, inclusive, fun-loving son and remember back to my own days growing up. And I had to listen to his reasoning for leaving it out so long. He wanted to let it dry out before folding and putting the tarp away in the pole barn, so it wouldn't mold.
So, I decided to say nothing. I only asked him kindly in the future to let it dry out on our driveway.
Then I gave him a kiss and a grape Popsicle.
Sooooooo much better than I have reacted before. Thanks God for prompting me to pause and ponder before I pounced. I need to do that as a mom more often.
After all…..we're raising kids…..not grass, right ladies?
So please send out this bulletin to the folks in my quaint development:
Sorry sweet neighbors. We had a little mishap that may detract from the flowing green scheme of lawns in the neighborhood. But not to worry! We'll get that little tractor chugging up and down that bare patch and it'll be back to green velvet before you know it. Pinky promise.
Love, The Hillbilly Ehmans :-)
Kid-raising Blessings,