I sit here stealing away a few minutes while the rest of the extended Ehman clan is watching football or soaking in the hot tub on the deck.
We took a long weekend trip to Banner Elk, North Carolina to Todd's sister's mountain condo to celebrate his mother's 80th birthday. All five siblings and their kids (who could make it) came. We got to see Kenzie, since she only lives 2 hours from here.
I don't have a lot of time to type. I want to spend the last few hours before bed with many of the relatives I see at most once a year. Suffice it to say we had a family-filled weekend. Food. Sight-seeing. History. The Woolley Worm Festival in town. A boys vs. girls pumpkin carving contest. Grandma's 80th party with an eight-decade trip-thru-history lecture. Pulled pork sandwiches. Diet Cheerwine :-) Homemade caramel apple dip. Tiramisu. Mmmmmm.
I do have time to post a few pictures:
The boys conked out somewhere in Ohio.
The view from Todd's sister's deck.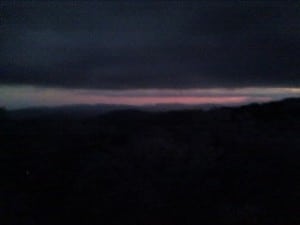 The same view at night.
A quaint country chapel.
A view from the Moses Cone mansion. At the turn of the last century, he was known as the "Denim King."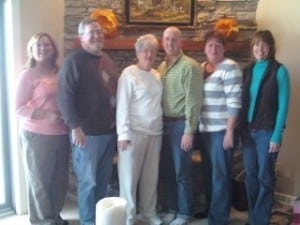 Grandma Shug and all her kids. (Fuzzy pic snapped from my cell phone)
Grandma and all the grand kids. She is the biggest kid of all!
Well, that is all for now. Have to prepare for the 14 hour trip back home and jump back into life.
I'll be back to blogging Tuesday if I can. If not, we'll see you on Weight Loss Wednesday's post. Over 40 of you have already commented to say "I'm in!" as we support and encourage each other to lose weight and get healthy. I am sooooo pumped!
For now….go love on your family. As Grandma told us all this weekend, when all is said and done, family is what matters most.
All-In-The-Family Blessings,