Screaming Goodies and Winner Announced
Welcome Weight Loss Wednesday group!! (Or any of the rest of you who are struggling with all the treats and temptations lurking about this time of year, trying to trip you up in your healthy eating and making your belly (or other regions of your body) bulge. (If you are just happening upon this site  and want to join us on Weight Loss Wednesdays, click here to get caught up or simply leave a comment today. We'd love to have you!!)
Before we weigh in about how our weeks went, let's talk goodies.
Screaming goodies.
Goodies like these I baked with some college girlfriends of Kenz's yesterday on "Baking with Mom E." day. Just look at these!!!
And these: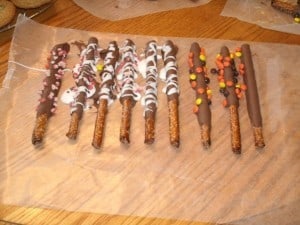 Resulting in hundreds of goodies loading two tables and all the counters in my kitchen, like this:
And baked by fun friends (and my two sons) caught here on camera (when they weren't licking the bowl or beater):
Ahem.…..guess no one told the 14 year-old this was baking day, not a three-on-three basketball tournament. What is up with the ratty t-shirt with the cut-off sleeves? And oh my, where was your hair net, young man? :-)
Anyhow….we baked for nearly four hours. Buckeyes, oatmeal cookies with red and green M & M's, hand dipped goodies rolled in sprinkles, peanut butter blossoms……
The house was saturated with the smell of goodies. And they were calling my name; calling me by my full name with my middle name thrown in for good measure.
You know when your middle name is added, you simply must obey.
So I started to…
And then, I remembered you all.
And I remembered last January feeling like a failure because I started gaining back some of the over 100 pounds I'd taken off earlier due to over-indulgence at the holidays.
And I remembered this post recently written by my friend Lysa.
So, I ignored the screaming goodies.
Never touched a one!
Nor do I intend to.
Oh, I will have a different goodie or two these next two weeks. I'm planning on it and planning for it. But, I will pass up most of the yelling and bossy delicacies of the season, no matter how loudly and firmly they call my name.
I'd rather find my jeans a bit looser and my scale number a bit lower next month instead, thank you very much!
Remember, "Less and less often".
Speaking of loosening jeans and lowering scales, I want to know how your week went. Did you eat less, move more; ignore any of your own screaming goodies? Had a rough time resulting in tightening jeans and higher numbers on the scales? It is okay, we've all been there. Please still check in with us, even if all you say is "restart".
I'll go first.
Had a week where I obeyed in my eating; passed up MANY treats. Sometimes pouted about it but tried instead to throw my efforts and energy into more exercise, even taking on the moving staircase thingy at the hospital rehab/fitness center (where I get a very inexpensive membership each year) That machine had me sweating and my heart pounding in less than 2 minutes! I did it five days last week climbing a 1/4 to 1/2 mile each time, since I'd read how climbing stairs burns calories at a very fast rate.
Must be true. This morning, I was down four pounds exactly and I ate the same amount of calories I consumed the week before when I only lost one pound!
That stair climbing thingy is my new BFF.
Now, if I could only tune the TV hooked to it to a holiday cooking show, I'd be chasing those treats and burning calories at the same time! :-)
Okay, how was your week? And what tempting events are you facing this next week. Let us know so we can be praying for you. Please hop on and encourage each other. I LOVE seeing you do that. In fact, I am sending momofgmd a set of cute recipe cards and a $5 Starbucks gift card for doing just that last week. (Please send me your address at [email protected] so I can do that, okay?)
Oh, and before I forget, the winner of yesterday's giveaway with Lisa Whelchel is: christy a; timestamp 11:51 pm on 12/15
Congrats! Email me your address at [email protected] so I can pass it along to Lisa.
Have a successful week everyone!
Goodie Ignoring Blessings,