Cherry Blossom Presidents Day Giveaway
Thanks to the many of you who let me know you were praying for me since I was feeling a bit under the weather this past weekend.  You are too sweet!
Normally a little sinus trouble shouldn't get a girl down, but I am severely allergic to cold medicine—as in wind-up-in-ER-and-admitted-to-the-hospital allergic, so I must suffer somewhat. Sea salt sinus rinses and melting a glop of Vicks Vapor rub in a metal bowl of boiling water and breathing in deep help a bit. There is one nose spray I can use, but only sparingly. So, most of the weekend, my head felt as if it would explode!
Now, since I still have that slight head-bursting feel, I will be brief. At the end of this post, I'll announce all five winners of the Valentines Week giveaways. I'll also offer a Presidents Day prize for today and want to invite you all back here tomorrow for a HUGE carnival of God's Girl's Giveaways our speaker team at Proverbs 31 is holding. Hey…the world will be indulging and celebrating Fat Tuesday up big. We'll celebrate here too!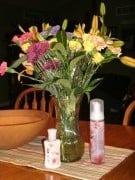 First, let me tell you what we're giving away today.
Since it  is President's Day here in the states, and since I always associate that winter holiday with ole' George Washington and the cherry tree legend, I'm giving away some Bath and Body Works Cherry Blossom products; a bottle of lotion and some shower foam too. Flowers not included :-) They are leftover from our Valentines banquet at church.
SO…here is the dealio. Leave a comment today about your earliest memory of a US president. Was it someone you saw on TV? Was it passing out campaign literature with your parents for a candidate?
My friend Debi tells of being on her dad's shoulders in Owosso, MI standing outside the train depot waiting for JFK to make a campaign stop. I remember my mom "sushing" us when President Nixon was on our black and white television screen resigning from office and Gerald Ford, his VP who is from my home state of MI, was taking office.
What about you? What US president do you first remember seeing or hearing about? (Please….no political slamming or "what a moron he was" comments. Let's all be nice :-))
Now—for the winners from last weeks Valentine's giveaways: (winners, please email your home address to [email protected] and tell me what prize you won)
A signed copy of  What A Husband Needs from His Wife by Melanie Chitwood and a $5.00 Starbucks card: Jill: February 8, 2010 at 2:38 pm
A signed copy of Is There Really Sex After Kids by Jill Savage and a heart-decorated oven mitt and some Bath and Body Works P.S. I Love You Spring Fling Lotion: Abi : February 9, 2010 at 8:32 pm
Some P.S. I Love You oil and a new electric oil diffuser and shower gel from Bath and Body Works: Vicki Foss: February 10, 2010 at 10:32 am
A copy of Dr. Emerson Eggerichs' best-selling book Love and Respect: Katie: February 12, 2010 at 3:44 pm
A signed copy of Melanie Chitwood's What a Wife Needs from Her Husband along with a $10 Starbucks card: Rebecca: February 12, 2010 at 8:17 pm
Now—what is your earliest memory of a US president? You may be today's winner!
Monday Blessings,