Family Giveaway (and grand prize details)
Oh, this is so much fun!
As I said last time, there are a total of four giveaways this week and you can leave a comment on any of the posts until next Monday, the 18th, when all the winners will be announced.
Now, today I'm announcing the second giveaway on Family. But before I do, let me also tell you about the "Grand Prize" of the week.
I will randomly pick one winner from all the comments left this week to win this fun fall giveaway. It includes:
~A spiced pumpkin scented soy jar candle
~Some sweet cinnamon pumpkin body wash from Bath & Body Works
~Matching sweet cinnamon pumpkin body lotion
~ And (not pictured) a $5 Starbucks gift card so you can purchase a pumpkin spice latte! (or drink of your choice)
Remember, the more times you comment on the posts this week, the more times your name will be entered in the giveaway!
To continue the 'blogwarming' celebration, today we feature a giveaway based on the second priority: Family.
One lucky commenter will win the following: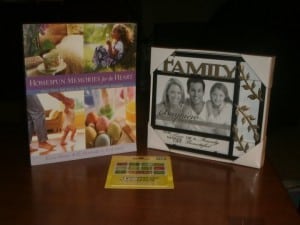 ~This whimsical metal frame that says "family" to place a snapshot of your loved ones in and keep on your desk, mantle or shelf.
~A $15 Subway gift card for your family to enjoy. Three $5 foot-long subs can stretch a long way!
~A copy of my book Homespun Memories for the Heart, personalized to your family.
To be entered in the family giveaway, simply leave a comment answering this: If you could spend a weekend with your immediate family members, and only spend $100, what would you do? Where would you go? (Of course as in all giveaways, if time is tight, just say "I'm in!")
Okay…..give us your best family weekend idea!
Blessings,