Weight Loss Wednesday with Arlene Pellicane
Here's a shout out to the winner of Jessa Anderson's cds. Rebecca Ann; timestamp January 17 at 4:27 pm Send your home address to me at [email protected] right away!
___________________________________________
Welcome (& for many of you welcome back!) to Weight Loss Wednesday. :-)
I've decided to begin regular posts on all things weight loss again here once a week. For a few reasons.
The success of our Proverbs 31 president Lysa TerKeurst's book Made to Crave: Satisfying Your Deepest Desire with God Not Food.
I have a deep connection with that book.
For a few reasons.
Lysa and I have commiserated over the years about weight together as friends.
We've both been up and down the scales a few times.
I saw her up-close and personal as she both discovered and lived the principles in this book.
Oh, and I'm in the book.
Now, that might sound all exciting to be featured in a New Your Times bestselling book.
However, in it I share about one of my biggest failures in life and I bare my soul for the world.
Oh well! I've been baring my soul here for you all for a few years now, so what's a few more thousand people?!?!
Which brings me to another reason I'm bringing Weight Loss Wednesdays back.
I need it.
Baring the soul is good.
And, I'll bet many of you need it too. Don't you?
Well, let's get this party started! The first thing I did was invite a special guest to kick it off!
An energetic speaker and writer, my friend Arlene Pellicane has been featured on The Hour of Power, The 700 Club, and Turning Point with Dr. David Jeremiah.  Her book,  31 Days to a Younger You:  No surgery.  No diets.  No kidding just released from Harvest House publishers.  Arlene is also scheduled to appear as a guest on the TLC show Home Made Simple in early 2011.
Before becoming a stay-at-home mom, Arlene worked as the Associate Producer for Turning Point Television with Dr. David Jeremiah.  She has also been an on-air features producer for The 700 Club.  Arlene earned her BA from Biola University and her Masters in Journalism from Regent University.
Arlene knows the ups and downs of pregnancy (she was pregnant five times in six years in her thirties).  She created a website called Losing Weight After Baby to encourage moms.  There you'll find her audiobook Losing Weight After Baby: 31 Days to a New You, plus videos, articles, and eBooks.  Arlene miscarried a baby at 26 weeks and is able to relate to moms who have suffered a similar loss.
Arlene loves speaking to women at retreats, moms groups, seminars, and special events.  She lives in San Diego with her husband James and three children, Ethan, Noelle, and Lucy.
Now, for our little cyber chat:
Arlene, tell us a bit about what prompted you to write this new book.
I love to be a cheerleader to others.  I was meeting so many women who were discouraged about their looks, health, relationships, job etc.  I wanted to write a book to say "The best isn't behind you.  There's more livin' to do!"
Why do you feel women today don't take time to better themselves physically, emotionally, mentally & spiritually.
It's hard to change our behaviors which become our habits.
For instance, if we're not used to exercising, it's really hard to take out the tennis shoes and hit the gym or do a workout DVD.  It's easier to say "I'm too busy taking care of everyone else."
Many women don't give themselves permission to set aside time for themselves whether it's reading a novel, joining a volleyball team, or attending a spiritual retreat.  Truth is, we need to take time to care for ourselves so we can care for others with renewed love, strength, and creativity.
How do you creatively build time into your busy schedule for yourself?
Hmm, that's a good one!  Every year I attend a women's retreat and also a personal growth conference with my husband.  These rituals give me something to look forward to each year.
Just recently a friend and I have decided to do a monthly coffee date because we're finding if we don't schedule it in, it never happens.  So I suppose it doesn't sound very creative, but I put fun times in the calendar.  And then I sneak moments in – like if my girls are napping and my husband is home, I'll say "Can I run to Ross?"
What is your greatest desire for women who read this wonderful book?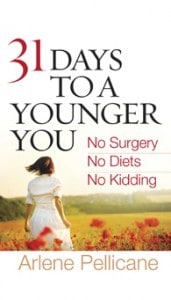 I want women to finish my book and feel hopeful about their future.  Maybe for the first time in a long time, a woman will think "I believe I can lose weight" or "I'm going to go for that job I've been dreaming about for years."
I want my readers to experience life change as God works in their lives.  And I want my readers to feel YOUNG, after all we are KIDS of the King!
You are offering a giveaway to one of our readers. Tell us about it.
I'd love to give one of your readers a copy of my book 31 Days to a Younger You:  No Surgery, No Diets, No Kidding!
Thanks so much Arlene! And thanks for dropping by Weight Loss Wednesdays!
You are so welcome! Thanks for the opportunity!
Okay everyone. To be entered in the drawing leave a comment in the comment box below.
~You may tell us why you'd like Arlene's book for you or a friend.
~You may tell us why you need Weight Loss Wednesdays.
~You may tell us your weight loss and or fitness goals and hopes.
~Or, you may just say, "I'm in!"
Oh….this feels good to be back in this struggle together!
Girlfriends….we are going down!!!
The scale, that is! :-)
Back-at-it Blessings,