Easter Giveaway & Blogging Break :-)
If you took part in the Facebook fun of my Spring Cleaning Week of giveaways, hop over to my page to see the winners announced. If you aren't my FB friend, I'd love for you to be! Just click on the FB icon in my sidebar and send me a friend request!
________________________________________________________________

Hey bloggy sisters~
I'm posting today, offering an Easter giveaway and then I'm going to take a much-needed blogging break to focus on Holy Week with my family.
I want to slow down and savor the moments. I wasn't sure if I'd have anyone who wanted to color eggs, but I do have one taker. (Thought I was going to need to grab some neighborhood kids!)
I can't wait for our church's resurrection celebration. We are trusting many hear about a new life with Jesus, because of the cross.
When we first began attending this church last spring, attendance was around 350. In one year, we've witnessed literally dozens of people decide to follow Christ and be baptized.
Homemakers, skeptical husbands, a woman who was a drug dealer, men addicted to pornography, indifferent middle-agers, sweet grandmas and searching teens. Now we are running over 700 each week and anticipate over 1,000 for Easter since that is how many we had at Christmas!!!
As our lead teaching pastor said yesterday, it is NEVER to be about the numbers but about the fact that many will hear about Jesus, the cross and the resurrection and as a result, lives will be changed for eternity! And what a humbling thought that God uses us as He changes lives—ours included!
And of course, I can't forget my extended family get-together with all the aunts, uncles and cousins where my mom hosts her annual egg-hunt, now turned trivia contest with other whacky games for the teens that are excuses for her to love on her grandkids and load them up with candy!
Yes, I love Easter week.
I have been blessed with a man who is intentional in creatively teaching his kids about God. We've had M & M races, a lesson on the persecuted church given on a cold, hard cement floor in the dark by flashlight, & much more.
This week, our yard sports a large, wooden cross.
Passersby will see a sign change each day announcing just what happened on that particular day of Holy Week. From Palm Sunday (Jesus enters Jerusalem) to Maundy Thursday (Jesus shares the last supper with his 12 closest friends) to the darkness of Good Friday, the silence of Saturday & the glory of Resurrection Sunday.
The signs not only change, but a cloth draping the shoulders of the cross goes from red to black to royal purple. And spot-lights illuminate the scene at night.
I pray you too are being intentional to focus on the glorious unfolding of Holy Week. Don't take it for granted! Read the accounts in the gospels. Thank God for His wonderful plan!
Now, as an Easter gift to one of you, this week I'll be giving away the following to one gal who comments: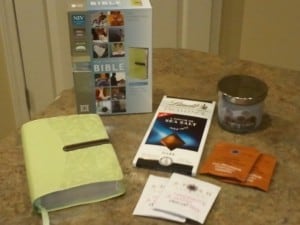 ~ An NIV thinline compact Bible. No better Easter gift than God's word!!! It is a great, portable size for your purse or car. (pictured out of the box for you to see the color)
~ Some bags of chocolate-hazelnut & Raspberry white tea (all decaf) for you to enjoy hot or cold while you read your new Bible!
~ A fresh linen candle. Because Jesus' blood makes us clean!
~ A dark chocolate-sea salt bar. (Hey….there is sea salt in the Holy Land, right?)
Okay—so leave us a comment letting us know your favorite Easter memory.
Mine is when our kids were small and we made a paper-mache' "tomb" scene complete with three crosses. They would use an action-figure guy to be Jesus, wrap him in strips of white cloth, place him in the tomb and voila'—-He wasn't there on Sunday morning….but their Easter baskets were!
What is your favorite Easter memory from adulthood or childhood?