Dead-Heading Tips & A Giveaway
If you've popped over from my Encouragement For Today devotion, welcome! If you haven't click here to read it. Then be sure to come back! :-) And if you'd like to receive my posts in your email box, click on one of the first three icons under the word 'subscribe' at the top of the sidebar.
Is your spiritual life in need of a good dead-heading? Try these 5 tips: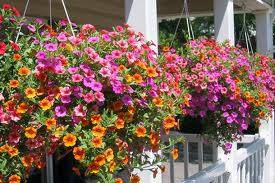 ~ Realize growth never happens without death. Just as a seed must 'die' before it begins to germinate and grow, we often need to go through pruning seasons in our spiritual lives. Death must happen–of our selfish desires, our wishes, our rights, our reoccurring sin struggles. Rather than be frustrated, thank God for the pruning process that brings forth new, vibrant life.
~ Nip early. You know when you are beginning to drop your guard and let negative thoughts, destructive habits or counter-productive behaviors seep in to your life. At the first sign of it, stop. Think through the consequences that will occur. Call a friend for accountability. Go take a walk. Divert yourself. Think before you react. Sin must be stopped early before it snowballs, taking many others in its path and leaving a wake of destruction.
~Fertilize often. Plant God's word in your heart and mind. Saturate yourself with scripture. Place a sticky note on your mirror. Make it your computer's screen saver. Turn it into wallpaper for your cell phone. Also take longer periods each day to read and absorb God's directions to us in His word, the Bible. We cannot grow properly if we don't feed our souls scripture. And they certainly can't thrive on a steady diet of the world's offerings.
~Water regularly. Wash your soul in the forgiveness only Jesus can offer. Go to Him and repent (which is a fancy term for changing your mind about sin). Decide you no longer think sin is no big deal. Wipe the slate clean and begin again. Be sure to ask for forgiveness from anyone you may have wronged. (Ouch!)
~Emit a sweet scent. When you react differently, even pleasantly, when you are bumped, wronged or slighted, you stand out as stars among the universe. Others won't quite know what to do with you when you return a blessing for a curse. The aroma of Christ will permeate the air and draw others to Himself.
Are you ready to give your heart a good dead-heading? The results are simply beautiful!
Now for the giveaway! Here is a garden-themed gift package one of you reading this will win. It includes items to pamper your hands, your feet & yourself after a long day working in the garden including:
~ Cucumber-Melon Bath & Bodyworks shower cream.
~ Crisp cucumber Bath & Bodyworks hand lotion.
~ Garden Grogg coffee–a blend of butterscotch, hazelnut & caramel.
~ A bloomin' flower card. You plant the actual card and it grows a variety of flowers & herbs.
~ A pumice bar & emery boards.
~ Some cucumber-mint foot scrub.
~ A foot-shaped scrub brush.
To be entered in the giveaway, leave a comment telling us either your favorite flower, herb or vegetable to grow. Mine would have to be either pineapple sage or chocolate-mint. You?