She Makes It Look "Breezy" Giveaway With Marybeth Whalen
Note: Due to a few glitches over the weekend when my site was unavailable, I have decided to leave this post & giveaway up until Wednesday. Also, if you still want to hop on my Facebook study on time & home organization based on my book, click here:
Ever looked at another woman and silently whispered to God, "Uh….I think I'll take what she's having, please".
Yes, on the surface 'she' seems to have it all–good looks, a nicer-than-yours home, a solid marriage, better-behaved-than-yours kiddos and that natural knack at living life well with her canned goods alphabetized and never a dvd late fee or missed appointment.
She makes life look like a breeze while you? Well, you feel the whirl winds of life are about to knock you over and blow you completely away!
I've been there. I'm still there sometimes. How about you?
When will we ever learn that the grass isn't greener on the other side? The grass is actually greener where you are careful to place the sprinkler, spread a little Miracle Grow and be intentional to pull your own weeds!
Ariel Baxter has just moved into the neighborhood of her dreams. The chaos of domestic life and the loneliness of motherhood, however, moved with her. Then she meets her neighbor, Justine Miller.
Justine ushers Ariel into a world of clutter-free houses, fresh-baked bread, homemade crafts, neighborhood playdates, and organization techniques designed to make marriage better and parenting manageable.
Soon Ariel realizes there is hope for peace, friendship, and clean kitchen counters. But when rumors start to circulate about Justine's real home life, Ariel must choose whether to believe the best about the friend she admires or consider the possibility that "perfection" isn't always what it seems to be.
She makes it Look Easy is the latest novel by my close friend & Proverbs 31 writer Marybeth Whalen. And you have a chance to win it, along with some other items that can make your life a bit more of a breeze! Simply leave a comment on this post. The random winner will be announced Monday. The giveaway includes: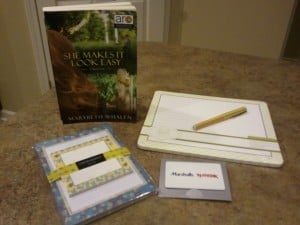 ~ A signed copy of She Makes it Look Easy
~ A mouse pad/notepad combo for you to use by your computer and make lists or doodle.:-)
~ A fun ink pen.
~ A set of sticky notes with a matching notepad for your purse or to place by the phone.
~ A $10 gift card to TJ Maxx/Marshalls– a place where I always find cool organizing & office-y stuff.
So, for your comment. Although the book is about comparisons, the lesson of the story is how to be content with your life and stop wishing you were someone else. So, no comments about what areas of your life you wish were more like someone else's. Instead, let's be a little goofy.
If you could have a different name, what name would you choose? We fondly refer to this our "Panera name".
Yes— I have friends who like to leave a different name with the worker at Panera Bread for their order. That way, instead of hearing "Brenda?" when their sandwich is up. They stroll over when they hear the employee call out "Seneca?"  :-)
Maybe it isn't an exotic or regal name, but what is another name you like?