Saving Savvy Giveaway with Kelly Hancock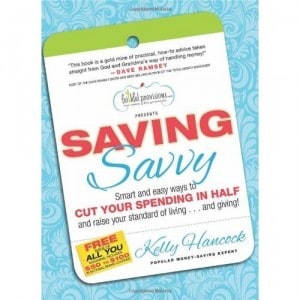 Not too long ago, I received a request to review a manuscript for an upcoming book that was being released. The book was about saving money. I immediately said yes. (Who doesn't want to save money these days?)
What a delight to get a sneak peek at this helpful manual. I immediately saw that financial genius Dave Ramsey had endorsed it. (The hubster & I love us some Dave Ramsey!) Here is what I wrote after devouring the manuscript:
"Is your menu plan running low on ideas while your grocery costs climb higher than your stretched-too-tight budget can handle?  Fear not! Kelly Hancock has crafted the ultimate handbook for saving money and time, both at the market and in the kitchen. Why, this book just might save your sanity as well! Sprinkled throughout with practical tools, inspiring scriptures and clever ideas, she'll teach you it isn't just about saving cash. Its about blessing others with the fruits of your frugality. My new favorite go-to grocery (and giving ) guide!"
Well, now you can enjoy it too. This book Saving Savvy, by Kelly Hancock is in bookstores now!  If you want creative ideas for eating well on a budget, this is it!
Kelly left a successful career in the corporate world to stay at home and raise a family. In the process of adjusting to a radical drop in household income, she discovered a treasure trove of secrets and strategies for saving money, buying smart and experiencing the joy of giving. She began a blog—FaithfulProvisions.com—that became wildly popular, receiving thousands of visitors each week. Kelly is now a frequent guest on radio and television programs. She and her husband, Bradford, have two children and live in Nashville, Tennessee.
Here is the publisher's description of the book:
Everybody wants to save money, but sometimes it's just too difficult and overwhelming. Kelly Hancock, popular blogger and media personality, has done the hard work for those who want to save big!
Her saving secrets will help readers cut their spending half – even before they clip the first coupon.
Kelly was a successful business professional who abruptly changed her mind to stay home after the birth of her first child. But it didn't make financial sense on paper. So Kelly figured out a way to cut family's overall spending substantially and their grocery budget by 80%. They not only discovered how to make ends meet, they were able to give more generously to others.
She reassures readers that God will faithfully provide for those who seek to honor.
Be sure to visit Kelly's site or check out her book on Amazon today. You will save the price of the book on your very next shopping trip. Buy it today! (No, I am not getting a kick-back from those who buy it. I just get a kick out of saving money and helping other do so too!)
If you'd like a chance to win a copy of this money-saving guide, leave a comment here telling us in what part of the grocery store do you drop the most dimes? Meats? Frozen foods? Convenience foods? Produce? Or any money saving food tip you might want to share. Winner will be announced Friday.
Happy saving!