Organization for Busy Families
Hey gang!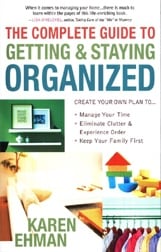 Head over to my friends at Focus on the Family today to hear a broadcast about organizing for busy families and getting kids in on the act.
Many of the ideas are taken from my book The Complete Guide to Getting and Staying Organized.
I recorded it last October when I was there at Focus' headquarters in Colorado Springs speaking at a Hearts at Home conference. I've always treasured each time I've been a guest on their show but this time especially, I had a complete blast visiting with John Fuller and Dr. Juli Slattery!
And remember, there is still time to join us next week when we start an online study on hospitality based on my book A Life That Says Welcome. You can click here for info.
And, If you have a blog, please grab the button from my sidebar that tells about that study and add it to your site.
We're are going to have great guests, giveaways and lots of link-ups and idea sharing! More about that tomorrow.
For now, plan to join me sometime today and listen to the Focus on the Family broadcast. To do so, simply click here.