You're Already Amazing with Holley Gerth
The winner of Letters from Leanne & a $10 Bath & Body Works card from Tuesday's post is: Lyn. Send your home address to [email protected]. Be sure to tell her what you won!
**************************
Ever feel the pressure to be perfect?
Look perfect.
Have a perfect marriage.
And perfectly behaved children.
A perfect house anyone?
How about a perfect job, extended family or past?
In the best-selling book You're Already Amazing, popular blogger and cofounder of (in)courage Holley Gerth helps women understand and embrace the fact that they don't need to do more, be more, and have more–because they're already amazing just the way God created them to be.
As a licensed counselor and certified life coach, she knows what readers need to hear.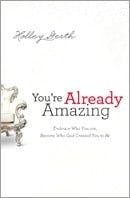 Like a heart-to-heart talk over coffee, reading this joy-filled book encourages women to forget the lies and expectations the world feeds them, instead believing that God made them for a purpose and that he loves them right now, at this moment, and always.
Holley takes readers on a journey of the heart to discover their strengths and embrace all God created them to be.
This fabulous author and regular girlfriend has agreed to give away a copy of her encouraging book to one of you who comments on this post. And you may also pick one item from the Holley collection from Day Spring. Click here to see it.
Tell us this, in what area of life do you most feel the pressure to be perfect?
Winner announced Monday.