Why "For Dummies" is Smart….and Sweet
I walked in my dad's living room a few weeks ago. What I saw on his end table next to his recliner made me smile.
It was the book Football For Dummies.
Now my dad loves to golf. At 81 years old he is still very good at it, often playing 18 holes in one day and winning local senior tournaments.
And he loves baseball. Don't you dare call him when his Detroit Tigers are playing or the Little League World Series is on ESPN. He won't even pick up the phone.
But football?
Nah. I can't ever remember him having an ounce of interest in the game. That is, until my son, his youngest grandchild, started playing recently.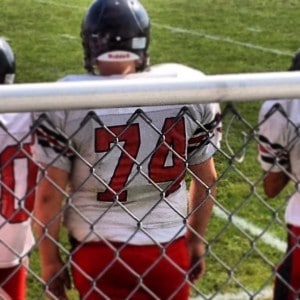 Now Papa is studying the rules, plays, and ins and outs of the game so when he watches Spencer play he won't be lost. And so he can talk with his grandson after the game.
It touches my heart.
And it isn't the first time Papa has done this. When our daughter Kenna played volleyball in middle and high school he did the same thing. He could often even be found watching college volleyball on television to learn even more about the sport.
Is there a child, coworker, neighbor or other person in your life to whom you want to show love? Then, take an active interest in something they love.
Now, you must know that there are some things my kids and husband love that completely bore me to tears.
The hubster loves smooth jazz (yawn!), my boys both love to hunt and my daughter loved sign language when she was in school.
So yes, I have surprised my beloved with tickets to a jazz concert and learned to make venison chili, wild turkey soup and even hasenpfeffer made from squirrel!
I gave up on the sign language because my daughter told me I didn't quite have the knack of it and it looked as if I were swearing!!
Is there someone in your life that would be touched if you showed interest in their interest?
Could you spend some time learning a skill or sport or hobby that you don't love just because there is a person in your life whom you do love?
If so, I'd love you to hear about it.
As for me? I think its about time I picked up Golf for Dummies so I can play a round with my sweet dad.
Well, at least a round of putt-putt :-)