3rd Day of Christmas with Sharon Glasgow
Welcome to our 5th annual 12 Days of Christmas giveaways!.
Each day I'll feature one of my Proverbs 31 sisters offering a recipe, idea or memory and giving away a prize for the day!
Today's guest?
The lovely and prayerful speaker chick:
~~~~~~~~~~~~~~~~~~~~~~~~~~~~~~~~~~~~~~~~~~~~
Making Gingerbread Houses
Years ago our family started the tradition of making gingerbread houses the day after Thanksgiving. We spend as much time laughing and talking as we do making the houses, it's so much fun.  We made our own gingerbread one year, it was way to much work and we've also bought gingerbread kits–that was too much money. So, most years we use graham crackers, frosting and various candies built on top of milk cartons.
If you have a kitchen window that they would fit on, it's a perfect use of space.
Directions for making Gingerbread houses:
1. Cut 6×8 inch pieces of cardboard to build the houses on (however-there will always one who wants to build bigger).
2. Cover the boards with aluminum foil or the frosting will soften the cardboard and make it weak.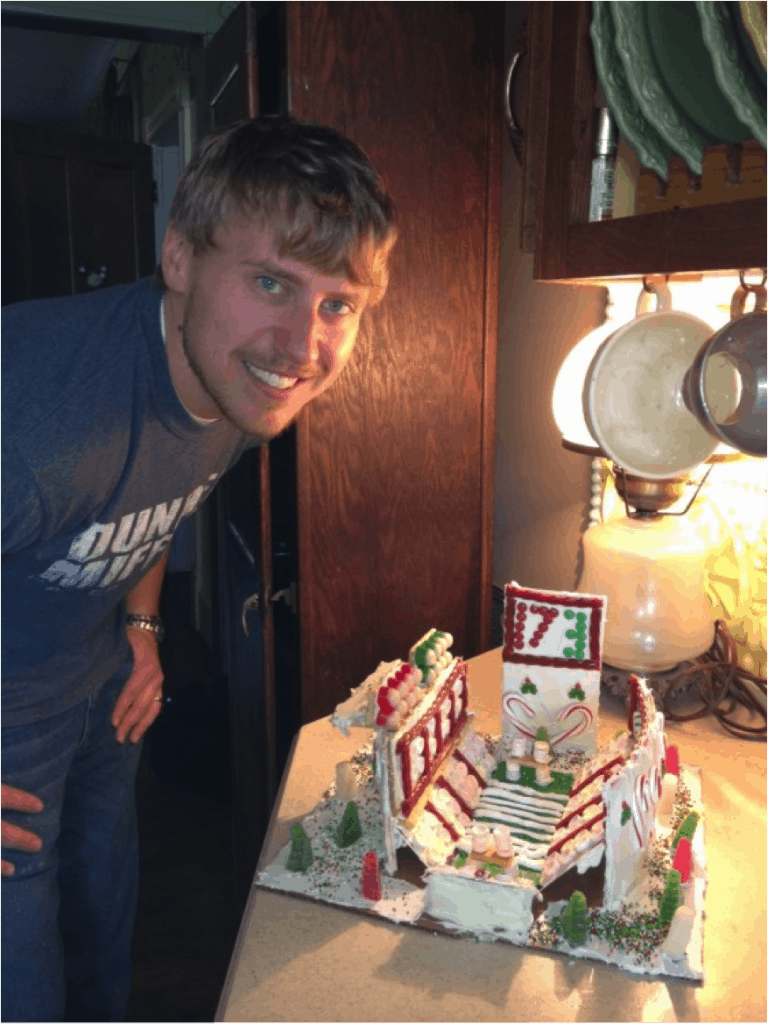 3. Cut milk cartons(small, medium or large)  to the size you want.  I save the cartons throughout the year so you're not scrambling to buy at the last-minute.
4. Cut graham crackers to fit the carton. You don't have to go all the way to the edge, the frosting fills in the spaces that are open. Apply frosting all over carton and secure crackers on top.
5. Start decorating!  Purchase colored frosting tubes with tips in the grocery store. Buy desired colors and several white tubes.  Stock up on a variety of candies to decorate.
Now for my giveaway:
I'm giving away a Christmas Strings & Harp CD to one winner today. I heard it playing at the store and fell in love with the music. It has all our favorite songs like; O Holy Night, Away in A Manger, What Child is This? O LittleTown of Bethlehem, Silent Night and much more.
If you are the winner of this giveaway, Karen will give me your name and email address. I'll send it out tomorrow!
Thanks for having me Karen! I love you!
Sharon 
P.S. If you want to learn how to make Flaming Christmas pudding or just get to know me better hop on over and visit me at http://sharonglasgow.com/2012/11/christmas-figgy-puddy/
 ~~~~~~~~~~~~~~~~~~~~~~~~~~~~~~~~~~~~~~~~~~~~~~~
Okay–to be entered in today's giveaway, tell us your favorite item to decorate a gingerbread house with. I like to make a walkway out of Starbursts! Or, if you are in a hurry, just say "Gingerbread!"
Remember, you have until Sunday night December 16th to comment on all the posts. One grand prize winner will be chosen from among the gals who post on all 12 days! What the grand prize is will be announced sometime this week (when I figure it out!!!)