Nifty Thrift Week: Day 4 with Janelle Nehrenz
Welcome to day four of our Nifty Thrifty week featuring ideas, stories, recipes and GIVEAWAYS from five frugal guests.
(And it all started with my devotion entitled The Boomerang of Blessing. You can click here to read it but be sure to come back!)
Today as our guest we have the culinary expert Janelle  Nehrenz from Comfy in the Kitchen. She and I have connected through doing online ministry together and I just love her site! (Not to mention that she is a baseball mom which I also love!)
Janelle is a Christian wife and mom of three young children. She has a meal ministry, co-leads a Summer Bible study, and happily stays busy volunteering at church and her children's school.
Her spiritual gifts are a mix of "hospitality and evangelism" and she shares all about it on her blog Comfy in the Kitchen.
Today in our frugal series, Janelle is giving us some great ideas for making meals on a shoe-string budget. If fact, she is including a link to a free resource she was featured in from Ebay Deals so all my readers can take advantage.
In addition, one reader will be chosen at random to receive a $15 Target gift card to put toward some some kitchen essentials like a Crock Pot, pans, cookie sheets, bowls, etc. As with all the posts this week, you have until Sunday night at midnight EST to comment and be entered in the drawing. All the winners will be announced Monday.
Now, enjoy the cooking Queen Janelle!
Crockpot Oatmeal and 89 MORE Meals under $1.25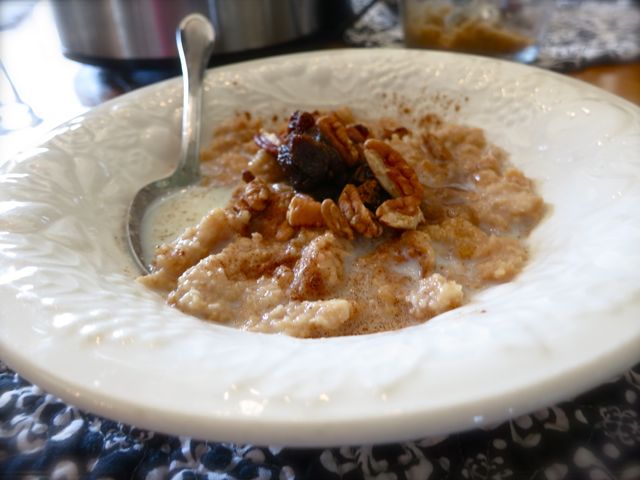 Cooking on a budget does not have to be bland, boring and repetitive. With a little imagination, wisdom, and willingness- anyone can make homemade meals to fit their bill.
One delicious and economical breakfast I make often is Crockpot Oatmeal…in fact, it was recently featured in Ebay Deals FREE E-book: 90 Meals Under $1.25! For just $0.33 per serving your family can wake up to the amazing aroma of vanilla, brown sugar and cinnamon just waiting for them in the kitchen. Mmmm….
(For this great post with these wonderfully delicious but oh-so-inexpensive dishes click here)
Reading through the other amazing recipes in this book, I became so impressed by the "comfy" and "economical" cooks we have here in cyber world. Ideas for breakfasts, lunches and dinners are all laid out in this great resource! These recipes will certainly be a blessing to all of us who want to make delicious meals yet not break the bank.
Here are some great tips provided by ebay deals on how to cook on a tight budget:
Cooking on a tight budget starts with an understanding of which ingredients are most economical as well as how to get the most savings on higher-priced items. Check out these quick tips for significant grocery savings:
Prepare meals around which items are on sale that week at your grocery store. Stock up on meat when prices are low and freeze it for later.
Buy seasonal produce. Summer vegetables can cost you several times more in the winter, and they don't taste nearly as good.
Don't let anything go to waste. Soups are both economical and a smart way to use up leftover vegetables and meat scraps.
Avoid items marked up for convenience, like pre-cut vegetables, individually packaged meats, and bottled salad dressings.
Shop in the bulk bins. You're not paying for packaging, and dried beans cost significantly less than canned.
In this book, there are enough meals to feed you breakfast, lunch and dinner for a month, all at around $1.00 per serving or less.
You can follow ebay deals on FB if you're interested in getting their deal updates!
Now, to be entered in the Target card drawing, what are YOUR favorite frugal recipes? Please share below!!!