3rd Day of Christmas with Glynnis Whitwer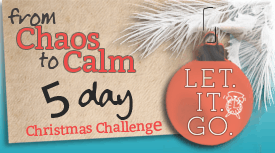 From unrealistic expectations to traditions to your screaming schedule as well as those annual holiday encounters with the in-laws and outlaws, this free 5 Day challenge will allow your holidays to go from chaos to calm. Click HERE for the free 5 Day Challenge and they will automatically come to your inbox. Merry Christmas!
*****************************************************************************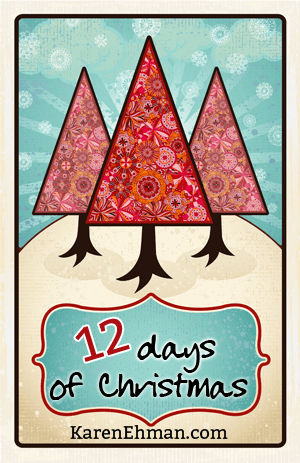 Welcome to the 3rd Day of Christmas with my co-author and ministry partner Glynnis Whitwer. Glynnis and her husband Tod live in Glendale Arizona, where Christmas is usually bright and sunny!  Yet she still feels the need for a Gingerbread Latte to ward off the "winter" chill.    They have five young adult children ranging in age from 16 to 22.
If you are looking for a plan to get organized in the New Year, you might want to check out Glynnis' book, "I Used to Be So Organized."  It contains insights into how the culture has changed and tips on how to get organized in our new, busy society.
And now, here is Glynnis:
When I ask my son Robbie what he simply must have for it to officially be Christmas, his answer is always the same "Blueberry Muffins."   There's nothing like the smell of something baking early Christmas morning to radiate home to my people.
Another special Christmas morning treat is Monkey Bread.  Maybe you call it something different, but it's about the easiest thing I can make.
Blueberry Muffins
Normally I choose a box mix (Krusteaz is my favorite) and sprinkle raw sugar on top before baking for a crispy crust, but this year I'm trying a made-from-scratch recipe from Allrecipes.com.  The Streusel Topping won me over.
Blueberry Muffins with Streusel topping
(Makes 8 large muffins)
1 1/2 cups all-purpose flour
3/4 cup white sugar
1/2 teaspoon salt
2 teaspoons baking powder
1/3 cup vegetable oil
1 egg
1/3 cup milk
1 cup fresh blueberries
1/2 cup white sugar
1/3 cup all-purpose flour
1/4 cup butter, cubed
1 1/2 teaspoons ground cinnamon
Directions
Preheat oven to 400 degrees F (200 degrees C). Grease muffin cups or line with muffin liners.
Combine 1-1/2 cups flour, 3/4 cup sugar, salt and baking powder. Place vegetable oil into a 1-cup measuring cup; add the egg and enough milk to fill the cup. Mix this with flour mixture. Fold in blueberries. Fill muffin cups right to the top, and sprinkle with crumb topping mixture.
To Make Crumb Topping: Mix together 1/2 cup sugar, 1/3 cup flour, 1/4 cup butter, and 1-1/2 teaspoons cinnamon. Mix with fork, and sprinkle over muffins before baking.
Bake for 20 to 25 minutes in the preheated oven, or until done.
Monkey Bread
I first had this recipe served by my pastor's wife almost 30 years ago.  It was good then and it's good now.  And so easy because you prepare it the night before!
About 20 frozen Rhodes Bake-N-Serv dinner rolls
1 (3 ounce) package of butterscotch cook and serve pudding mix
3/4 cup of brown sugar, packed
1 teaspoon of cinnamon
1/2 cup of chopped pecans
1/2 cup (1 stick) of butter, melted
Instructions
The night before you want to serve these rolls, thoroughly butter or spray a bundt pan and place the frozen dinner rolls in the bottom. Sprinkle with the powdered pudding mix. Mix together the brown sugar and cinnamon and sprinkle on top of the frozen rolls. Sprinkle top with the pecans and pour melted butter all over the top. Cover loosely with plastic wrap and let rise in a draft free place, for about 7 hours, or overnight.  (I put mine in an unheated oven)
When ready to bake, remove the risen rolls from the oven (if that's where you put yours) preheat oven to 350 degrees and bake for about 25 to 30 minutes. Loosen around the edges of the pan and the center tube and let rest a few minutes; turn out onto a large plate. Let cool slightly and serve warm.
TODAY'S GIVEAWAY: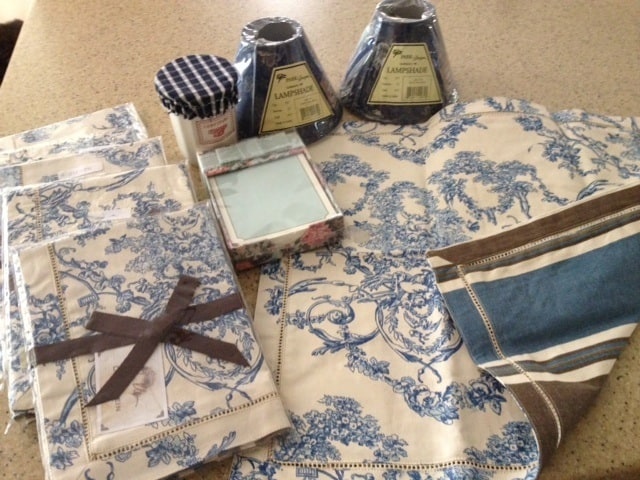 As a special gift, Glynnis is giving away a beautiful blue kitchen accessory gift assortment.  The items include six double-sided toile/striped napkins, two 6" lampshades, fabric covered jam pot and a lovely notepad.
To be entered to win simply tell us what your family has to eat on Christmas morning. At our place we have cream cheese -stuffed eggnog French toast made with cinnamon swirl raisin bread.
And you?