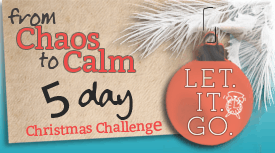 From unrealistic expectations to traditions to your screaming schedule as well as those annual holiday encounters with the in-laws and outlaws, this free 5 Day challenge will allow your holidays to go from chaos to calm. Click HERE for the free 5 Day Challenge and they will automatically come to your inbox. Merry Christmas!
*****************************************************************************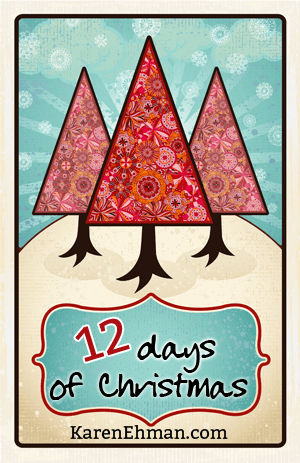 IMPORTANT NOTE: Remember you may comment to win on all of the 12 Days of Christmas posts until Sunday night, December 15th at midnight EST so be sure to read through those you missed and catch up!
Welcome to the 7th Day of Christmas guests and giveaways! Today we're featuring a new friend of mine. I met her when she and her husband read a blog post I wrote that they liked so much they shared it on air in a radio interview and emailed me to tell me so. It touched my heart so much! And it about made my jaw drop when I found out who she was. Her name is Aimee Powell.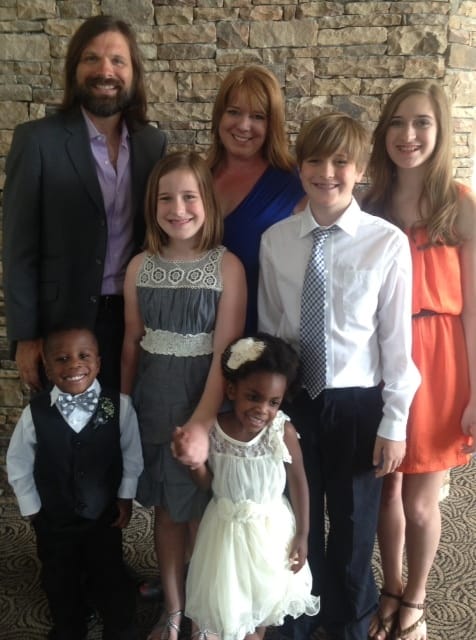 Aimee is the wife of Mac, lead singer of Christian rock band, Third Day. They have been married and making Christmas memories for over 17 years. Together they are raising 5 wonderful children, Scout (14), Cash (11), Camie Love (10), Emmanuel (4), and Birdie Clare (3). She's stopped by to tell us what Chrsitmas is like around their place.
So now, here's Aimee….
I am a traditionalist at heart, so I love all the nostalgic fun of Christmastime. I'm sure we share lots of the same traditions. I love setting out our nativity scenes, listening to Christmas music, having the house decorated, being with family and friends.
Every year on our way home from Thanksgiving in Alabama, our children watch The Polar Express on the TV in our 9 passenger conversion van. Mac and I get emotional listening from the front seat.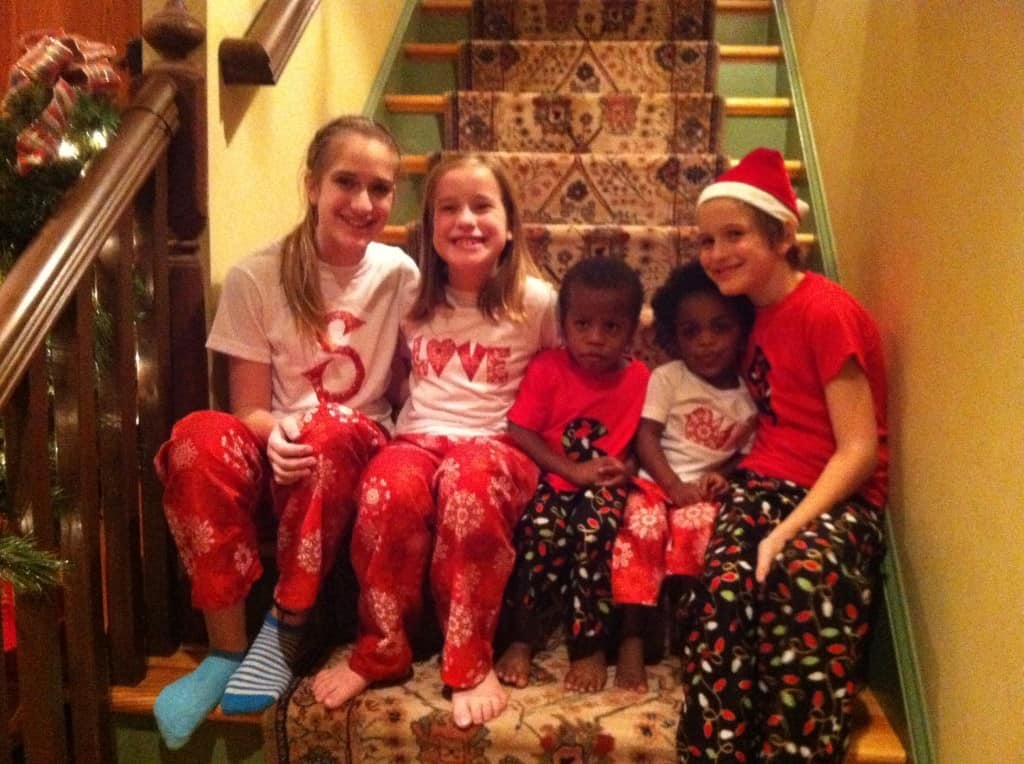 I get excited watching our children open "just one gift" on Christmas Eve while donned in their new jammies.
But just a few short hours before the children go to bed on Christmas Eve, we have a huge celebration at our house. My mother's side of the family (it'll be 36 of us this year) pile into the kitchen to hug and kiss, laugh and eat lots of yummy food.
Once everyone is finished eating, we crowd into the living room to listen to my 88 year old grandfather, Big Papa, read from the Bible, the story of Jesus' birth.  When he is finished reverently reading Luke 2, we continue our worship by singing "Silent Night" and "Away in a Manger".  Of all our traditions, this is my FAVORITE!
Merry Christmas.
Luke 2
New International Version (NIV)
The Birth of Jesus
2 In those days Caesar Augustus issued a decree that a census should be taken of the entire Roman world. 2 (This was the first census that took place while[a] Quirinius was governor of Syria.) 3 And everyone went to their own town to register.
4 So Joseph also went up from the town of Nazareth in Galilee to Judea, to Bethlehem the town of David, because he belonged to the house and line of David. 5 He went there to register with Mary, who was pledged to be married to him and was expecting a child. 6 While they were there, the time came for the baby to be born, 7 and she gave birth to her firstborn, a son. She wrapped him in cloths and placed him in a manger, because there was no guest room available for them.
8 And there were shepherds living out in the fields nearby, keeping watch over their flocks at night. 9 An angel of the Lord appeared to them, and the glory of the Lord shone around them, and they were terrified. 10 But the angel said to them, "Do not be afraid. I bring you good news that will cause great joy for all the people. 11 Today in the town of David a Savior has been born to you; he is the Messiah, the Lord. 12 This will be a sign to you: You will find a baby wrapped in cloths and lying in a manger."
13 Suddenly a great company of the heavenly host appeared with the angel, praising God and saying,
14  "Glory to God in the highest heaven,
and on earth peace to those on whom his favor rests."
15 When the angels had left them and gone into heaven, the shepherds said to one another, "Let's go to Bethlehem and see this thing that has happened, which the Lord has told us about."
16 So they hurried off and found Mary and Joseph, and the baby, who was lying in the manger. 17 When they had seen him, they spread the word concerning what had been told them about this child, 18 and all who heard it were amazed at what the shepherds said to them. 19 But Mary treasured up all these things and pondered them in her heart. 20 The shepherds returned, glorifying and praising God for all the things they had heard and seen, which were just as they had been told.
21 On the eighth day, when it was time to circumcise the child, he was named Jesus, the name the angel had given him before he was conceived.
TODAY'S GIVEAWAY:
Mac and Aimee are giving two of you who comment a package of select Third Day CD's. Simply tell us what you do with extended family at Christmastime. If you don't get together with them then tell us what you do on Christmas Eve.
I'll go first. We get together with my extended family at my mom's a Christmas Day in the afternoon to exchange gifts and eat my mom's turkey and dressing, my brother's barbecue meatballs and my sister-in-law's famous fudge.
And you?
(Visited 3,038 times, 1 visits today)