"Then, because so many people were coming and going that they did not even have a chance to eat, he said to them, 'Come with me by yourselves to a quiet place and get some rest.'" Mark 6:31 (NIV)
"I want honey in my tea! And a lemon slice too! Oh, and can I use Great-Grandma's teacup, pretty please? I'll be careful," my then five-year-old daughter sweetly asked as we were enjoying our afternoon mother-daughter ritual.
Each day while her two baby brothers napped, we pulled out china teacups and saucers from my collection and sipped herbal tea while I read a book out loud to her.
This afternoon she was asking permission to use an heirloom piece that had been passed down through four generations in my mother's family. While I knew my little girl would be careful with the antique pink and white china cradled in her little hands, something else made me deny her request. I tried explaining it to her.
"Sweetheart, I know you'll be careful, but we can't have hot tea in that cup. It has cracks. See?"
I showed her a few tiny, hairline fractures on the side near the handle. It wasn't cracked all the way through and could actually still hold water without leaking. However, if hot liquid were to be poured into it, the crack would give way, causing the petite cup to shatter. (Been there. Broke that!)
There was just no way for the fractured piece to withstand the stress of a steaming beverage.
Our emotional lives are much the same. When we don't allow time to rest and regroup from the stresses of life, we allow cracks in our spirit that make us emotionally and spiritually fragile. We keep going at break-neck speeds, rarely slowing down long enough to be refreshed.
Mark 6:31 highlights the fact that even Jesus Himself found it important to get away for a while, to slow down and cease activity. The Bible records this event, "Then, because so many people were coming and going that they did not even have a chance to eat, he said to them, 'Come with me by yourselves to a quiet place and get some rest'" (NIV).
Jesus urged His disciples to get to a quiet place. In doing so they would find rest. Being alone and quiet would restore their weary spirits.
For many of us, the stretch between Thanksgiving to New Years Day is a whirlwind of activity. In our fast-paced society, we rarely are intentional to create a quiet place and spend time resting. As a result, stress chisels away, creating tiny cracks that although barely visible, could cause us to shatter under the go-go-go pressures of everyday life, much less the holidays.
Let's purpose to take time to slow down, get away, and rest. To find solitude in a hushed place alone with our Savior, even if only for an hour.
If we make time to answer Jesus' call to go away with Him to a quiet place, we can crack-proof our spirits, making them strong and rendering us ready to handle life. A few quiet moments spent with Him can help make us strong enough to fulfill God's assignments for us this season.
Dear Lord, help me intentionally carve out time to reconnect with You in a quiet spot. I know You are waiting. I want to seek Your face and find true rest. In Jesus' Name, Amen.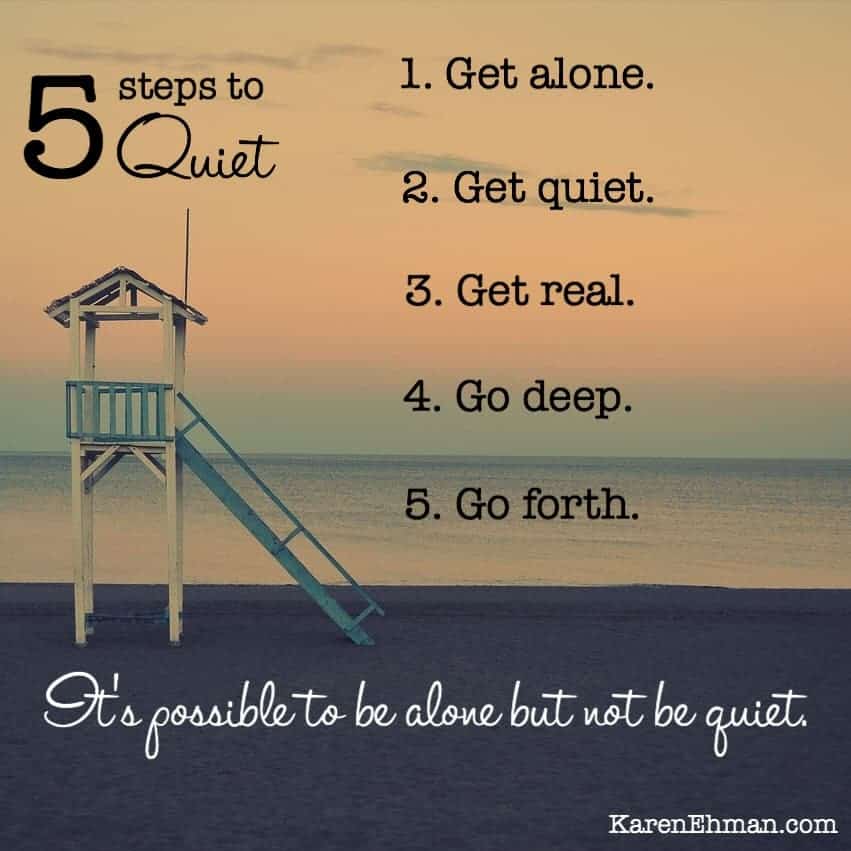 How do we get to a quiet place so the cracks in our spirit don't cause us to break?
~ Get Alone.
While it is possible to read the Bible or pray with others nearby (and sometimes moms with small children don't have much choice!) it is best if you can get alone. No other people present. Find a quiet room out of the main traffic of the house. (I go into our master bedroom's large closet sometimes and shut the door!) Withdraw for a while.
~ Get Quiet.
Being alone isn't enough. It is possible to be alone but not be quiet. Especially if you insist on taking along your phone. Having it buzz and beep at you is not being quiet. So turn off the TV. Silence the radio. Put the phone away for a while. Try just sitting in silence for a while and asking God to calm you and speak to your heart.
~ Get Real.
No sense in trying to fool God. He knows your thoughts before they are even formed! Talk honestly to Him, telling Him of your feelings, desires, hopes and regrets. Ask for His guidance. Seek His forgiveness. Beg for His wisdom. Talk to Him as if you were confiding in your best friend. Being real and raw is the place to start rather than saying what you think sounds "religious" when you pray. I'm not saying to throw respect and reverence out the door, just to be honest as you pour your heart out to the Lord.
~ Go Deep.
Yes, read the Bible during your time alone with God, but also learn to utilize some great classic books of the faith to understand the concepts in scripture or disciplines of the faith that aren't always so clear. My favorites are Discipline: The Glad Surrender by Elisabeth Elliot,  Forgotten God, Crazy Love, and Erasing Hell by Francis Chan, Mere Christianity by C. S. Lewis and The Reason for God by Timothy Keller.
~ Go Forth.
Yes, chasing and capturing quiet is essential to our spiritual lives but it is not an end in itself. Our goal in seeking quiet is to emerge stronger, more rested, more focused and ready to live our lives to the glory of God!
Now, how  about you? Do you seek quiet? Why or why not? Any tips? Hopes? Other thoughts?
***************************
*If you long to resist the rush, halt the hustle, & find a little calm in the chaos, check out my latest book Pressing Pause: 100 Quiet Moments for Moms to Meet with Jesus.