The 9th Day of Christmas with Candace Cameron Bure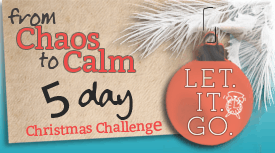 From unrealistic expectations to traditions to your screaming schedule as well as those annual holiday encounters with the in-laws and outlaws, this free 5 Day challenge will allow your holidays to go from chaos to calm. Click HERE for the free 5 Day Challenge and they will automatically come to your inbox. Merry Christmas!
*****************************************************************************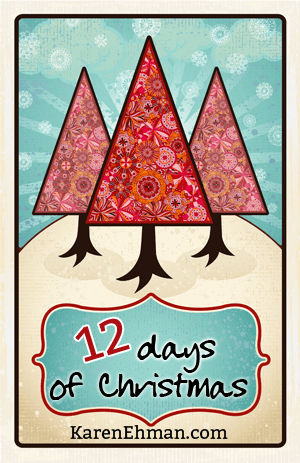 IMPORTANT NOTE: Remember you may comment to win on all of the 12 Days of Christmas posts until Sunday night, December 15th at midnight EST so be sure to read through those you missed and catch up!
It is the 9th Day of Christmas and our guest is actress and author Candace Cameron Bure. Candace played the part of DJ Tanner on the hit family show Full House. She's also a New York Times best-selling author and producer. But the role she loves most loves playing is that of wife to Val and mom of Natasha, Lev and Maksim. She's joining our series today to offer tips for eating healthy during the holidays.
Now……..here's Candace:
5 Tips to Navigate Holiday Eating
For many of us, Christmas time means delicious indulgent foods and sugary sweet treats. But you don't have carry extra pounds through the holiday season. Just apply a few simple rules, and enjoy it all without feeling guilty.
1. If you know you have a party or a family gathering coming up, save up for a little indulgence by eating clean and healthy foods every day before your event. Then, you can have your favorites one evening, in moderation of course, without feeling guilty.
2. You may be looking forward to that once a year Christmas spread, but in order not to stuff yourself, eat a small meal before your actual dinner. It may sound counter-intuitive, but you'll save yourself a whole lot of unnecessary fat calories if you're not "starving" before you set your eyes on you feast. Feel satisfied by eating a cup of greek yogurt with granola, a small piece of lean protein like 3 turkey slices, or a cup of oatmeal with cinnamon before you head out.
3. Decide if you want to eat your calories or drink your calories. Love eggnog? Spiced apple cider? Hot mint-mocha lattes? Since most of those sugary drinks have as many calories as a small desert, decide beforehand and choose to either eat OR drink the sweet stuff.
4. Don't wear baggy clothes to your party. We all do it… wear something a little lose so we don't feel the bloat! Don't! Whether you wear a dress, skirt or pants, make sure it's fitted at the waist with an immovable button or zipper and not with stretchy elastic. When we leave room in our clothes, we're just asking for them to be filled up! When you wear clothing that fits true to your shape,  you're less likely to overindulge on a meal, simply because you can immediately feel the discomfort if you're stuffed.
5. Above all, keep your portions small. My trick it is eat off a salad size plate, not a dinner size plate. Your eye sees a full plate of food and a clean plate, but it doesn't necessarily register the size of the plate. So you trigger your mind to feel satisfied after you've finished off every last bite of your small plate!
TODAY'S GIVEAWAY:
Candace is giving away two copies of her book on health, weight and eating entitled Reshaping it All. Simply leave us a comment telling us what holiday food is most tempting for you.
Mine is buckeye peanut putter candies.
And yours?