Best Warm 'Em Up Main Dishes for Winter
It's that time of year again where we see lots of snow and often experience wind chills of over 25 degrees below zero here in Michigan! I'd say it is a perfect time for some warm 'em up winter dishes. Here are some of my favorites:
Oven-Glazed Orange Chicken
Super simple and unique. Serve with rice to soak up the extra sauce. NOTE: You can substitute peach or apricot jam for the orange marmelade.
6 boneless, skinless chicken breasts
1 jar orange marmelade
1 envelope dry onion soup mix
cornstarch
Place chicken in a greased 9 x 13 inch pan. Mix marmelade or jam with soup mix and spread on chicken. Bake uncovered at 350 degrees for an hour or until no longer pink. If desired, mix a few tablespoons cornstarch with 1/4 C cold water and stir into the sauce in the bottom of the pan to thicken the sauce.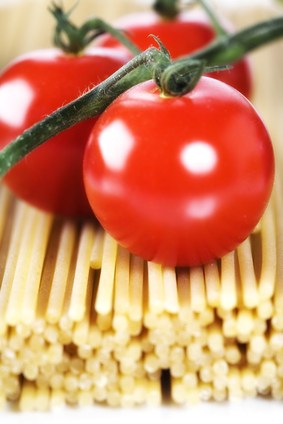 Spaghetti Pie
Served with a veggie, salad and some garlic bread, this makes a great Italian meal that's sure to warm you up.
Prepare 6 ounces spaghetti according to package directions. Drain.
While still warm, add in:
2 beaten eggs
1/4 C Parmesan cheese
Pat into a greased 10 inch pie pan.
Brown 1 pound sausage with 1/4 C minced onion . Drain. Add in:
2 C spaghetti sauce
Spread 1 C sour cream on top of spaghetti. Top with meat mixture making sure to spread all the way to the edges. Bake at 350 degrees for 25 minutes.
Top with 1 1/2 C shredded mozzarella cheese (I use Italian blend) and return to the oven for 5 minutes until melted.
Cheddar-Stuffed Meatloaf
Mama's classic with a delicious cheesy middle. Serve with scalloped potatoes.
1 1/2 lbs lean ground beef
1 C crushed saltines crackers
2 eggs
1 small onion, finely chopped
1 t salt
1/4 t black pepper
1/3 C Sweet Baby Rays Barbecue sauce
1/2-2/3 cup whole milk
2 C shredded sharp cheddar cheese
More Barbecue sauce as needed
Mix all but cheese. Press half of mixture in a lightly greased loaf pan. Press down in the center to make an indentation. Place cheese in indentation and top with the rest of the meat mixture. Bake at 350 degrees for 1 hour and 15 minutes or until done. Baste with barbecue sauce every 15 minutes.
Stove-Top Beef Stroganoff
An easy classic that doesn't need the oven. Serve over Amish-style noodles.
1 1/2 pounds beef for stew
1 package fresh mushrooms
1 C sliced onions
1 T beef stock paste (or one bouillon cube)
3 cans cream of mushroom soup
3 C sour cream
In a large Dutch oven or deep skillet sauté the beef, mushrooms and onion in a little oil. Add 1/2 C water and beef paste. Cover and simmer for 45 minutes. Add soup and mix well. Add sour cream and mix thoroughly just before serving.
Cabbage Roll Casserole
A shortcut that even those who think they don't like cabbage rolls are sure to love! Serve with a hearty bread and a crisp salad.
1 lb. lean ground beef or ground turkey
1 medium onion, chopped
2 t oil
1 t salt
1/4 t pepper
1 C Minute Rice
2- 16 ounce cans diced tomatoes
1 1/2 C tomato or V8 juice
3 C shredded cabbage
Brown meat and onions in oil. Add all but cabbage. Place cabbage in a greased 9 x 13 inch pan.Place meat mixture over the top. Do not stir!!! Cook 1 1/2 hours at 325 degrees. If it looks to be getting dry, pour a little more tomato juice on top.
What are some of your favorite main dishes for winter?