Sweet & Simple Valentine Recipes Sure to Win Their Hearts
Have a sweetheart, some sweet kids, or someone else in your life you want to bless this Valentines Day? Try one of these easy recipes, sure to win their hearts.
Pecan Pralines
Rich and delicious. For the nut lover in your life.
3 cups firmly packed brown sugar
1/4 cup butter
1 cup heavy cream
1 1/2  cups pecans
1/8 teaspoon cinnamon
pinch of salt
Combine the sugar, butter, and cream in a medium-size saucepan. Stir well over low heat until dissolved and boiling. Cook to the soft ball stage of 236°, stirring constantly. (for best results, use a candy thermometer. However, you can check it between 6 and 12 minutes. It is at the softball stage if a tiny drop of it in cold water forms a soft ball that can be flattened between your fingers.) Remove from heat and add nuts, salt, and cinnamon. Beat well until it begins to hold its form. Drop by heaping spoonfuls on to wax paper or a greased cookie sheet. Cool. Store at room temperature in a covered container.
Homemade Peanut Butter Cups
These are amazing and amazingly easy too.
24 ounces semi sweet chocolate chips
1 cup natural creamy peanut butter
1/4 cup butter, softened (no substitutes)
2 cups (more or less) powdered sugar
Foil muffin cups – any size will work
Mix peanut butter, butter and sugar in a small bowl, adding enough powdered sugar to make the consistency of the inside of a peanut butter cup. In a medium sauce pan on low heat, slowly melt the chocolate chips. Place foil muffin cups on a cookie sheet or if they fit, in a muffin tin. Using a pastry brush, completely brush the insides of the muffin cups with a medium layer of the melted chocolate. Place them in the freezer for a few minutes to harden. Remove and fill not quite to the top with the peanut butter filling. Then swirl more melted chocolate on top being sure to touch the sides. Place in the freezer for a few more minutes to harden. When hardened, store in a covered container at a cool temperature until giving as a gift.
Cappuccino Muffins with Espresso Spread
These are absolutely delicious and different. For the coffee and chocolate lover in your life.
Spread:
One half block cream cheese, cubed
1 tablespoon sugar
1/2 teaspoon instant coffee granules
1/2 teaspoon vanilla
1/4 cup mini semi sweet chocolate chips
Muffins:
2 cups flour
3/4 cup sugar
2 1/2 teaspoons baking powder
2 teaspoons cinnamon
1/2 teaspoon salt
1 cup milk
2 tablespoons instant coffee granules
1/2 cup butter, melted
1 egg, beaten
1 teaspoon vanilla
3/4 cup mini semi sweet chocolate chips
Blend all the espresso ingredients and cover tightly. Store in the refrigerator. In a medium-size bowl, combine all dry ingredients except for chocolate chips. In another bowl, stir milk and coffee granules until the coffee is dissolved. Add the butter, egg and vanilla, mixing well. Combined dry and wet ingredients, stirring just until moistened. Gently fold in chocolate chips. Fill paper-lined muffin cups two thirds full. Bake at 375° for 15 to 20 minutes or until a cake tester comes out clean. Cool for five minutes and remove from pan. Serve with espresso spread. Makes 12 to 14 muffins.
Lemon Oat Squares
1 can sweetened condensed milk
1 teaspoon grated lemon zest
1/4 cup fresh lemon juice
1 1/4 cups flour
1 cup old fashioned oats
1/2 cup packed brown sugar
1/2 cup unsalted butter
1/4 teaspoon baking soda
1/4 teaspoon salt
Mix the first three ingredients in a bowl and til well blended. In a separate bowl mix the remaining ingredients until crumbly. Press half of the crumbly mixture in a 8 inch square pan that has been greased or sprayed with cooking spray. Top with the lemon mixture and then crumble remaining oat mixture on top. Press down on the topping slightly. Bake at 375° for 18 to 20 minutes. Edges should be lightly golden brown and the center should be set but still soft. Cool completely before cutting into squares.
Now you can also share the love with these recipes with 10 Simple Ways to Sprinkle God's Love.
*************************
Looking for some clean eating dessert recipes? Check out my friend Katie's cookbook:
Dashing Dish: 100 Simple and Delicious Recipes for Clean Eating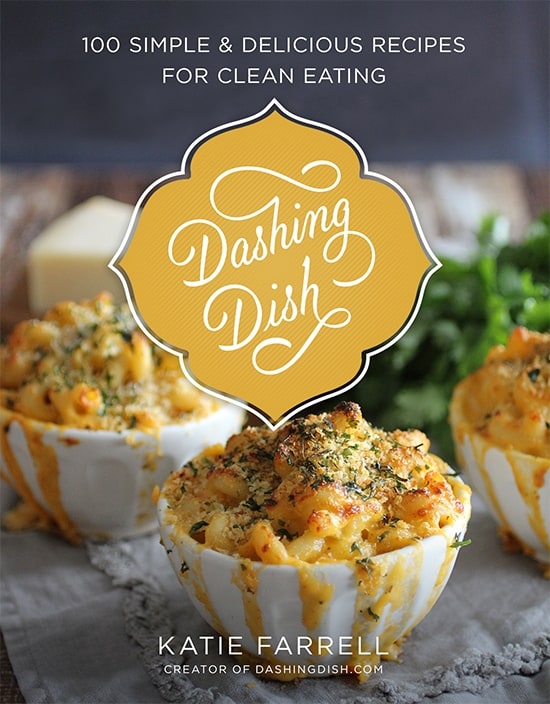 SaveSave