The 10th Day of Christmas with Ruth Schwenk – The Better Mom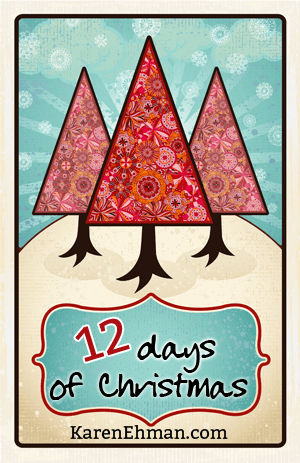 12 Days.
12 friends guest posting sharing a Christmas idea, recipe or favorite with you.
12 great giveaways for you to enter along with one GRAND PRIZE for someone who comments to enter all 12 days!!
Welcome to the 10th Day of Christmas with Ruth Schwenk of the Better Mom.
Like you, Ruth wears many hats! She loves being the wife of a pastor, who is her best friend and mom to her four beautiful children. Ruth is a graduate of The Moody Bible Institute in Chicago, IL. She is the author of two forthcoming books with Zondervan, a speaker and the creator of TheBetterMom.com
Now, here is Ruth!
I love to cook, but even more so… I love to eat!  I can always remember events and places I attended simply from the food I ate. The holidays are especially memorable, not just because of gathering, but because of eating!!! Typically when we are going to a work-related function, a family member's house, or a friend's party we bring along something tasty for everyone to enjoy. That just adds to the magic of this season! But how many times do you go to a party hoping that you made enough to feed everyone?
This Thanksgiving I was planning on making pie and I couldn't decide if I should make one or two due to the number of guests. To be honest, I didn't really want have double the work making two pies. And that is when it dawned on me…Company Apple Pie! Company Apple Pie is one of those yummy desserts etched in my memory. My sweet friend is an amazing cook and this is just one of her delicious desserts that she bakes. However this isn't your typical apple pie, and that is what I love about it. It is perfect for a crowd, and an easy addition to your holiday menu!
Company Apple Pie
Crust: 2 ¼ Cups of Flour (divided), ¼ cup of water, 1 cup of shortening
In a small bowl mix ¼ cup of flour with one teaspoon of water and set aside.
In a large bowl combine remaining flour and cut in shortening until mixture resembles coarse crumbs. Add water/flour mixture and combine until dough forms a ball. Press dough on to and up the sides of an ungreased 15x10x1 pan (a cookie sheet with an edge).
Filling: 10 apples peeled and thinly sliced, 1 ¼ cup sugar, ¼ cup lemon juice, 2 tsp Cinnamon, 2 TBS flour
Combine and spread over crust.
Topping: 1 ½ cups flour, ¾ cup brown sugar, ¾ cup cold butter cubed
Combine flour and sugar in bowl. Cut in butter until mixture resembles coarse crumbs. Sprinkle over filling.
Bake at 350 degrees for 1 hour or until apples are tender.
Tips: Turn oven off and let pie sit in oven if the topping is getting too brown so the apples can get tender. For an added touch drizzle caramel on top.
Hope you enjoy this delicious addition to your Christmas gathering!!
Blessings,
Ruth Schwenk
Giveaway: Ruth is giving away a beautiful Dayspring Journal, along with the Redeemed necklace and bracelet set from Dayspring!
For a chance to win Ruth's giveaway, leave a comment below on how you determine how much to take for your dish to pass.  Or telling us what your favorite dish to pass is! Also be sure to comment on all 12 Days for a chance to win the Grand Prize!