The 11th Day of Christmas with Jill Savage of Hearts at Home
Welcome to the 7th annual 12 Days of Christmas Giveaways!!!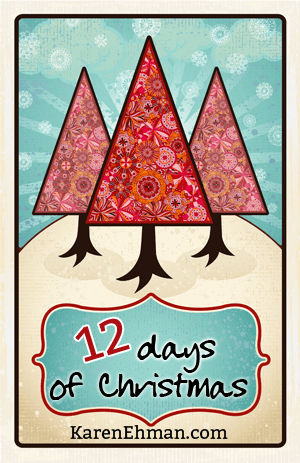 12 Days.
12 friends guest posting sharing a Christmas idea, recipe or favorite with you.
12 great giveaways for you to enter along with one GRAND PRIZE for someone who comments to enter all 12 days!!
Today's guest is my dear friend Jill Savage.
Jill Savage is an author, speaker, and Founder and CEO of Hearts at Home, an organization for moms. The upcoming Hearts at Home conference will feature keynote speakers Lysa TerKeurst and Dr. Gary Chapman as well as dozens of practical workshops.  Jill's books include the bestselling No More Perfect Moms, Real Mom…Real Jesus, Living With Less So Your Family Has More, and No More Perfect Kids. A mother of five and Nana of 3, Jill and her husband Mark make their home in Central Illinois.
Jill writes about faith, family, motherhood, and marriage. To receive encouragement from Jill, you can subscribe here to receive her emails and when you do you'll receive a free printable of I Corinthians 13 for Parents from her No More Perfect Kids book.
And now here is my good friend, Jill, to tell us How To Successfully Bake Cut-Out Christmas Cookies with your Children.
I've been baking Christmas cookies with my kids for 29 years.  Through many disappointments and trials and errors, I've finally learned how to do it well at every stage of mothering.  Let me share my secrets with you!
Here's the recipe I use:
Christmas Cut-Out Cookies
1/2 c. Crisco
1 stick butter
1 c. sugar
3 eggs
2 tsp baking powder
1-1/2 tsp vanilla
3-1/2 c. of flour  (I usually add more until the dough isn't sticky)
Chill 1 hour.  Roll 1/4? thick with rolling pin. (I disinfect my kitchen island and roll the dough right on the counter top. Make sure and flour the surface you are rolling on and flour the rolling pin–just rub flour all over it–so the dough doesn't stick)
Use cookie cutters for shapes.  Bake 400 degrees for 6-8 minutes until shine is off (do not overcook–you don't want them brown on the edges)
Icing
2 sticks butter (softened–I leave the sticks on the counter for about 30 min)
4-1/2 – 4-3/4 c. powdered sugar (I usually add more until it peaks when you mix it)
1/2 c. milk
1-1/2 tsp vanilla or peppermint (we use peppermint!)
Beat butter to fluffy and add 1/2 of the powdered sugar. Add milk and vanilla and rest of sugar.  Divide into smaller bowls and add food coloring as desired (we usually do red, green, blue, yellow, and white)
Note: Cookies can be frozen either before icing or after icing, if you want to decorate or eat at a later time.
Here's how to successfully make cut-out cookies with kids of any age:
Preschool Years: 
1) Day 1: You make and chill dough while they are napping.
2) Day 2: You cut out and bake cookies while they are napping.
3) Day 2 or 3: You make icing and ice the cookies
4) Your preschooler can put sprinkles on while the icing is still wet.
5) Enjoy eating, giving away, and sharing the yummy cookies you made!
Grade School Years 
1) You make and chill the dough
2) You roll out the dough and let them use the cookie cutters to cut out the shapes
3) You put them in the oven.
4) Once all the cookies are cool, the kids and you can ice them and decorate with sprinkles.  (this can also be done on the next day if cookies are stored in an airtight container.)
5) Enjoy!
Note: Grade school years is a great time to teach your kids to make cookies from scratch. Since Christmas cookies have five parts to them–1) making the recipe  2) chilling the dough  3) rolling the dough and cutting the cookies  4) baking the cookies  5) decorating the cookies—I find this isn't the best time to teach them to bake.  The process is too long and they are impatient to get to the cutting out and decorating.  Teach them to follow a recipe some other time with something like Chocolate Chip cookies or  Oatmeal Raisin Cookies that you just mix up, bake, and eat!
Teen Years
1) You make and chill the dough (if you have a teen that wants to do that, let them!)
2) You show them how to roll out the dough and cut out the cookies, then let them do it themselves!
3) You help with the baking.
4) Enjoy decorating the cookies with your family!
Even when the dough is already made and chilled, it's usually about a 3 hour process to roll out the dough, cut out the cookies, bake, and decorate them. That's why I'm a believer in already having the dough made and chilled no matter the age of the kids!
Once I bake and decorate cookies with my kids, I want to sit back with a book and a cup of tea!
And now……The Giveaway:
Jill is giving away this wonderful "Christmas Cookie Recovery Gift Basket" that includes all kinds of goodies like: signed copies of No More Perfect Moms and No More Perfect Kids, two Charlene Baumbich books, a No More Perfect Moms video curriculum DVD, a Fatherhood Rocks thermal cup, and a Hearts at Home mug.
After you bake those cookies you can sit back and enjoy a little "me" time!
What about you?  What holiday baking traditions does your family have? Tell us about it in the comment section for a chance to win Jill's giveaway.
And don't forget to come back and enter each day of the 12 days for a chance to win the GRAND PRIZE.