The 4th Day of Christmas with Darlene Schacht–Time Warp Wife
Welcome to the 7th annual 12 Days of Christmas Giveaways!!!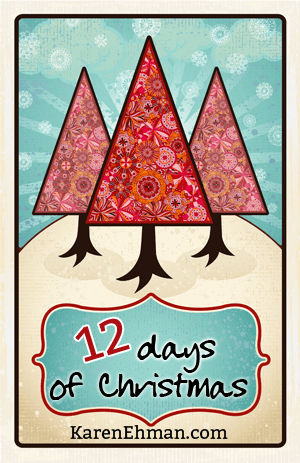 12 Days.
12 friends guest posting sharing a Christmas idea, recipe or favorite with you.
12 great giveaways for you to enter along with one GRAND PRIZE for someone who comments to enter all 12 days!!
On this fourth day of Christmas we are delighted to welcome my friend Darlene Schacht of the Time Warp Wife.
Darlene is well-known from her popular blog, Time Warp Wife where she encourages wives to put God first in their lives. She inspires women to love their husbands and children, and to be good keepers of the home. Her newest book, Messy Beautiful Love, is an incredible testimony that encourages wives toward a Christ-centered marriage.
And now….from Darlene…..
I don't think Christmas would be complete without an annual turkey stuffing recipe, do you? This is a recipe that was passed down from my grandma to my mom and now to my sisters and their children.
Ask my husband what his favorite Christmas dish is–hands down he'll say it's my turkey stuffing. It's a family favorite and a must-have at every Christmas and thanksgiving dinner!
I hope you enjoy it!
Mom's Turkey Stuffing
Ingredients:
1 lb. Pork sausage
Breadcrumbs from one loaf of bread (cube and toast in the oven)
1 Onion (diced)
1 pinch of ginger
1 T sage
Salt and Pepper to taste
1 diced Celery stalk
1 c turkey broth or water
*Don't tell my mom, but I also add a box of chicken flavored Stove Top Stuffing to the mix, just to give it that extra kick of flavor. But it tastes amazing either way!
Procedure:
To make bread crumbs, cube a loaf of bread and toast them on a cookie sheet in the oven at 350 degrees for about 10-15 minutes. Check them often so they don't over toast.
Mix ingredients together and press into baking pan. Add a little water if necessary to further moisten.
Bake at 350°F for 30 – 40 min.
Stuffing can either be baked separately or stuffed into a turkey or chicken for cooking, although I've always made it separately.
You are loved by an almighty God,
Darlene Schacht
*********************
Today's giveaway:
Darlene is giving away one Amazon gift card of $40.00 to the winner of today's drawing.
For a chance to win, simply leave a comment on your memories of turkey stuffing. Perhaps you are not a fan of traditional ingredients, what do you prefer?  What is the most unique stuffing ingredient you have tasted? Do you have any glutten free recipes to share?
Don't forget to come back for all 12 days! {And remember, if you comment on all 12 posts, you might win the Grand Prize!}