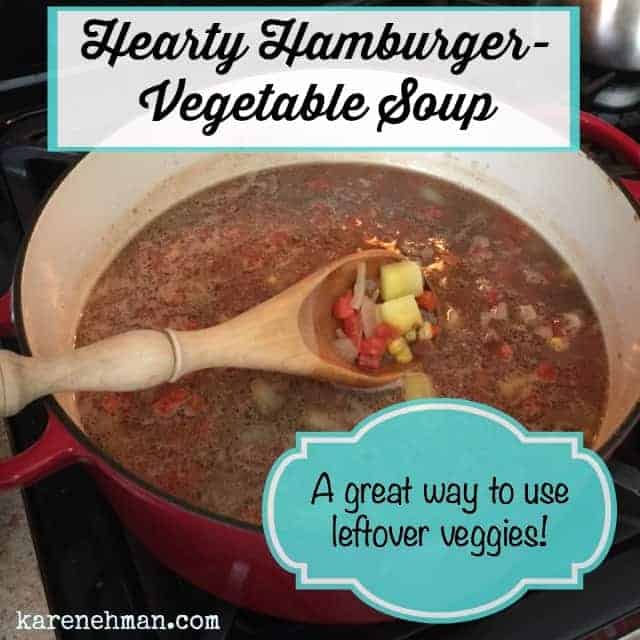 Need a quick soup recipe that will feed your hungry crew this weekend? My friend Pam contributed this yummy recipe to my book The Complete Guide to Getting and Staying Organized. It is easy to make and great if you have leftover corn or extra ground beef.  Add some hearty whole-grain bread or cornbread muffins and a side of fruit and your meal is done! Enjoy!
Hearty Hamburger-Vegetable Soup
1 lb. lean ground beef (we use ground sirloin for less fat)
2 packages onion soup mix
3 T. beef broth base or 2 beef bouillon cubes
4-6 cups water
4 potatoes, peeled and cubed (we add more)
4 carrots, peeled and diced
1- 15 ounce can corn (or 2 cups leftover corn)
1- 15 ounce can diced tomatoes with juice.
(Optional: you can also add 2 cups more of any veggie. We have used green beans, lima beans, and peas. Whatever we have leftover.)

Brown beef in large soup pot. Add rest of ingredients but corn. Bring to a boil and cook over medium-low heat until veggies are tender. Add corn.  Season with salt and pepper (or a little Italian spices like basil and oregano) and serve. My kids like to sprinkle sharp cheddar cheese on top to make it cheeseburger soup too! 
* This recipe taken from The Complete Guide to Getting and Staying Organized. If you find it hard to be a mom and still keep your ducks–and ducklings–in a row, you'll find encouragement in this book!
(Visited 598 times, 1 visits today)