Ice Box Peanut Butter Pie
I love Instagram. (Do you have an account? If so, I'd love for you to follow me there. Click here for my account}
HOWEVER….one thing I don't like is that if I ever post a picture of food I am making, I am inundated with pleas for the recipe and, although I'd like to help a sister out, I simply do not have the time to stop and type it out–especially not on my cell phone!
Well, today I do have a few minutes to hop on here and share one of the most requested recipes: Ice Box Peanut Butter Pie. Super simple. No heating up the oven or even turning on a burner! This is a great recipe for kids to make too–for a parent on Mother's of Father's Day perhaps. So if you need a sweet treat for a special occasion, try this!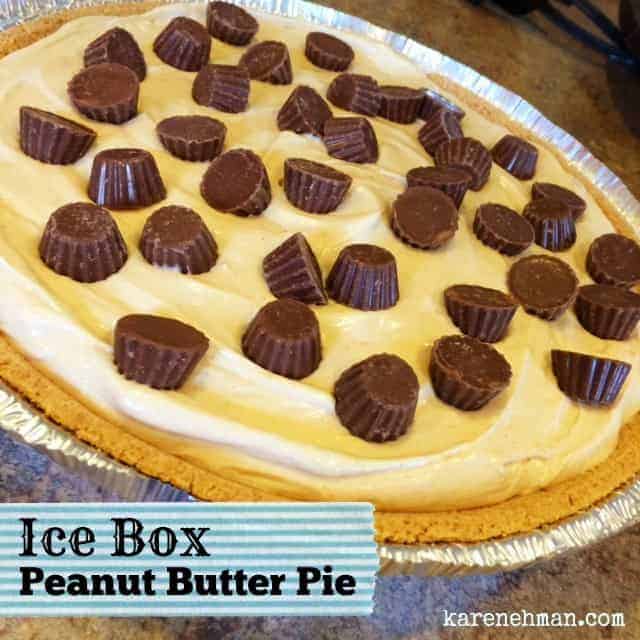 Ingredients:
One Keebler 2 Extra Serving Size Ready Crust
One block cream cheese, room temperature
One regular size container Extra Creamy frozen whipped topping (Such as Cool Whip brand)
1 1/2 cups Powdered sugar
3/4 cup Creamy peanut butter
1/4 cup milk
Mini-peanut butter cups or chocolate chips for garnish, if desired
Directions:
In a medium sized bowl, mix cream cheese and peanut butter on low speed until well blended.
Blend in sugar and milk.
By hand, fold in whipped topping.
Spoon into crust.
Garnish as desired. Cover tightly with foil and freeze.
To serve, thaw at room temperature for 15 minutes. Slice and serve. Easy!!
*********************************************************************
The winners of the Mother's Day prints from My Winter Sky are:
Valerie Dillion
Katie (comment left 4/29 at 4:15 pm)
Carolyn Dotts
Winners, please send an email with your home address and what it is you won to: [email protected]
NOTE: You have 2 weeks from today to claim your prize.