DIY – Organize that Jewelry!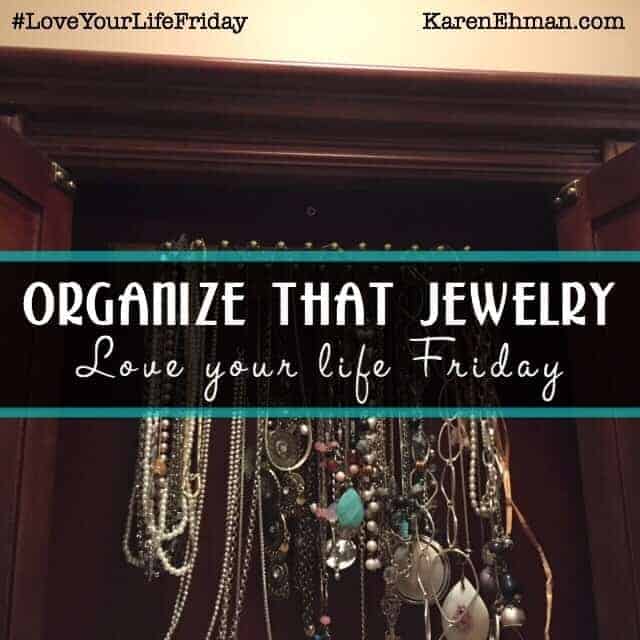 Lynn Cowell 
popping in to share on Karen's DIY Day!
In 9th grade, my best friend Suzie gave me the cutest little jewelry bag to keep my precious (although cheap) jewelry safe in.
Fast forward 15 years. My family was moving into a new house and what jewelry I had was still wrapped up in that pretty, little bag … and it was a tangled mess! I had to figure out a new plan.
This idea came to me the day we were installing my husband's tie rack in our closet. What worked for him could work for me!
I just had two problems:
Where could I put my rack?
I didn't want it out in the open.
Our closet had no more free wall space, but our water closet did! So I found a little cupboard at the home improvement store, hung it above our stool and put the tie rack inside.
You might not feel like you need to take the extra step to put it in a cabinet, but my husband and I often have our guests use our bedroom, so I wanted it out of sight.
Now what about my earrings?
For this solution, I simply cut a 18 count egg carton in half:
(Thanks to you, it got a bit more organized today!)
Now the problem is … what do I do with my bracelets?
Today, I'm giving away a cute set of pearl earrings. To enter, simply say, "I'm in!" or if you have an idea on what I can do with this jumbled up mess of bracelets and watches share it! I'll have Karen announce the winner next week and I'll get them shipped right out to you!
I hope you'll stop by my blog at Wise Women … Wise Daughters and say hello! It's where we help one another become wise women and in turn impact the next generation of women to be wiser still!
Lynn Cowell is a Proverbs 31 speaker and the author of several books including "Magnetic: Becoming the Girl He Wants".
Lynn helps set women of all ages on the path toward wise choices by leading them to the only love that can fill the love gap in their hearts.
Her husband and their three children (all in college) live in North Carolina where they love hiking, rafting and anything combining chocolate and peanut butter.