#5HabitsBook Giveaway! With Nicki Koziarz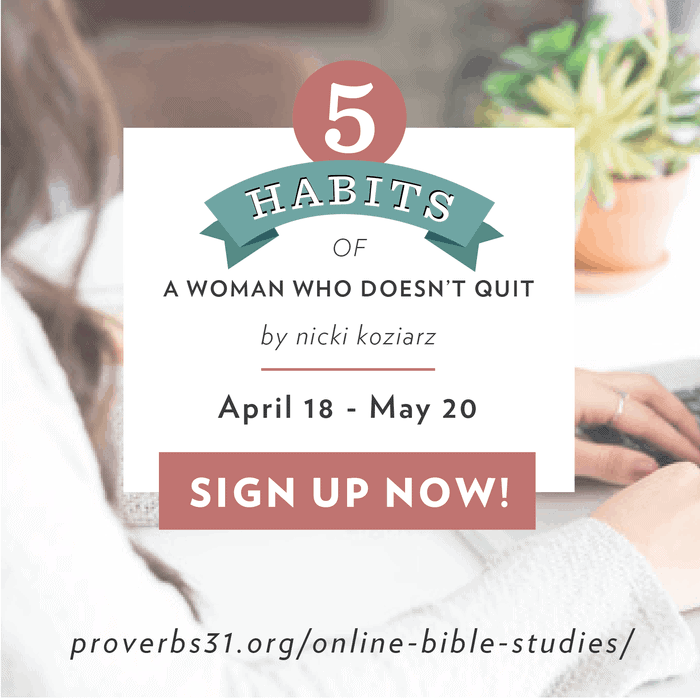 Let me introduce you to a sweet friend of mine, Nicki Koziarz
Nicki's a girl hungry for her generation to know and understand the truth God offers. Her first book, 5 Habits of a Woman Who Doesn't Quit just released! The Bible study is to follow in May 2016. Nicki speaks nationally at events, retreats and conferences.One of the greatest joy's in her life is being a wife to Kris and mom to 3 amazing girls: Taylor, Hope & Kennedy. They also have a slightly famous pug, Herman
Here she is for today's post:
Hey guys! Okay, let's start this conversation off by me letting you know how much I love this lady, Karen Ehman. You guys know this, but she's super amazing. And she has been such an inspiration to me over the last few years.
One of the things I love the most about Karen is the way she loves her family so well. She inspires me to keep going as a mom.
Because there's been a time or two I've wanted to throw in the towel to motherhood! Like the other day when one of my three girls tossed a sassy tone at me all day, another one cried because I missed something important to her and everyone complained about the dinner I made. The laundry, the schedules, the cleaning and the exhaustion motherhood can bring is sometimes overwhelming.
I know Karen's not the perfect mom but she's a mom women can look up to. She inspires us to keep going, get creative with our efforts and to believe we can raise our kids to impact eternity.
Karen reminds me of a mom in the Bible we can also look up to, Ruth.
I've been studying the book of Ruth a lot this past year. And Ruth's story doesn't start off with one of hope and determination. It starts off as broken, hopeless and defeated. But Ruth just kept taking each step of obedience, which led her to becoming this mom who God choose to use as part of the generational lineage of JESUS.
While I was studying the book of Ruth I kept coming across these habits I saw her consistently living out. Habits that helped her become a woman who didn't quit.
And today, I wanted to invite you to be part of this journey I'm on towards becoming a woman who doesn't give in to the temptation to give up. Not just with motherhood, but with each assignment God has given me.
In just a few weeks Proverbs 31 Online Bible Studies will be launching a study on the book, 5 Habits of a Woman Who Doesn't Quit. We'll walk through the entire book of Ruth and see these five habits lived out. You'll be able to join the most encouraging online community in the world, have exclusive access to teaching videos and so much more!!
The best part, it's totally FREE! All you need is the book which you can get by clicking here!
I would love to invite you to join us!
And today, P31OBS is giving away three copies of the book to Karen's readers.
To enter the giveaway head to Proverbs 31 to sign up for the OBS and then leave a comment here on the blog letting us know you are signed up! Winners  announced Friday March 11, 2016!