When Your Mama Heart Needs a Little Hope
Could your mama heart use a hearty dose of hope served alongside a heaping helping of grace? Then you will want to check out my new favorite mom blogger Becky Thompson of Scissortail Silk.
I first heard of her when I came across this fabulous post with a refreshing and biblical take on the news frenzy about Bruce turned Caitlyn Jenner. From there, I clicked around reading more posts (like this one and also this one about being the mama of a strong willed child. Where was she 15 years ago when I needed that? Oh. That's right. Probably in middle school. ;-)
Becky Thompson began blogging under the name Scissortail SILK, quickly drawing a global audience of millions. A self-professed city girl, Becky is a recent transplant to northwest Oklahoma, where she lives with her husband, Jared, their three young children, and whatever critters wander in from the wheat field behind their house. You can connect with Becky online at www.BeckyThompson.com or join her and the thousands of other grace-filled moms who are a part of the Scissortail SILK community on Facebook.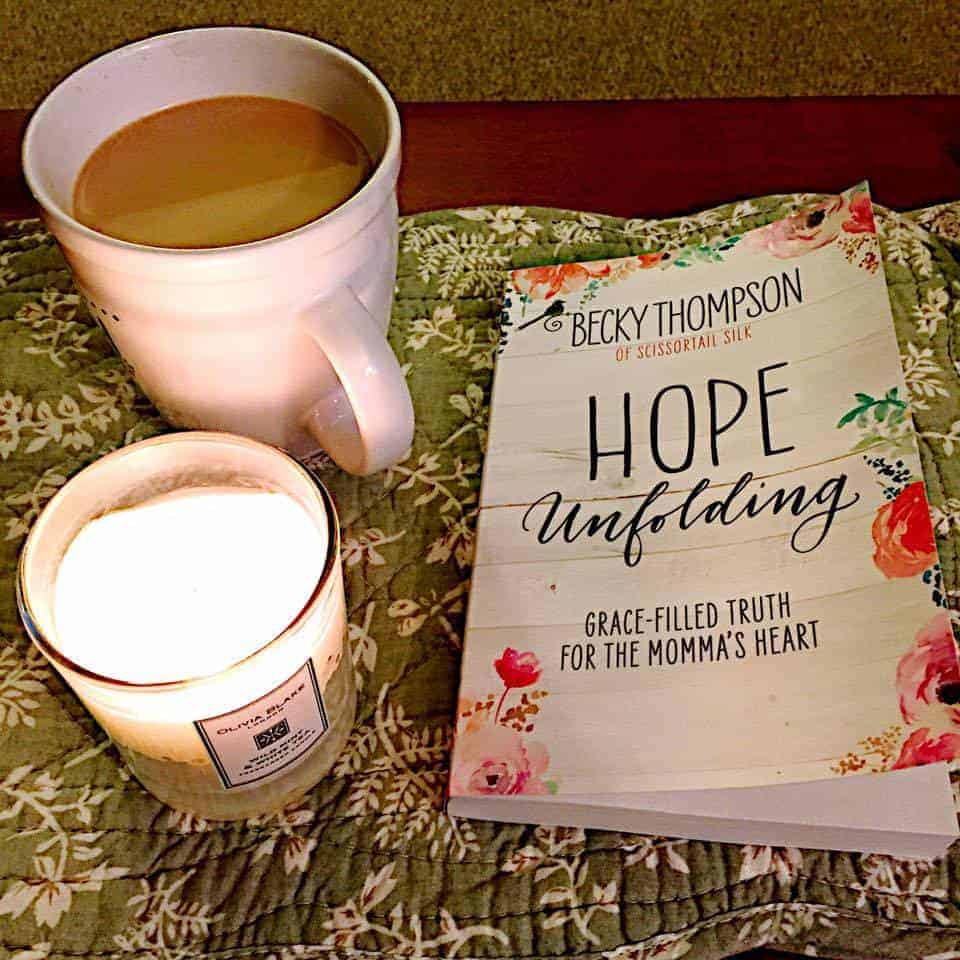 Becky and I have gotten to be fast friends. She just wrote her first book Hope Unfolding and so, naturally, as her friend, I asked to read it. Here is what I had to say about it in my endorsement:
"Calling all moms in the trenches. Whether you are up to your eyeballs in diapers and dishes or dealing daily with homework and teens, this book is for you! In its pages you'll discover a respite from the rush and a dose of hope amidst the heartache that often accompanies motherhood. I wish I'd had this encouragement when my kids were small and you can bet your sweet spit-up covered sweatshirt that all new moms I know will be gifted one from me at their baby shower. I can't recommend this grace-filled volume enough!"
If you would like to be entered to win one of three copies of Hope Unfolding, leave a comment telling us what area of your mothering could use a hearty dose of hope. Winner announced Friday.
*****************************************************
Speaking of winners. I am behind in announcing some. Here they are:
Winner of the earrings from Lynn Cowell: Sue Goodman
Winners of Nicki Koziarz's book5 Habits of a Woman Who Doesn't Quit: Kelly Davis, Jessica G., and Mary Tullila
Winner of Sarah Mae's Having a Martha Home the Mary Way: Kathy Scott
Winners please email your home address, along with what it is that you won, to [email protected]
Be sure to leave a comment to be entered to win Hope Unfolding!