Better Than Eating Out Fish Tacos From Denise Roberts for Love Your Life Friday
NOTE: The winners of a copy of Uninvited by Lysa TerKeurst are Charis B., Deb Colston, and Kay Wolters. Please send and email to my administrative assistant Sheila at [email protected] giving us your mailing address and telling her what it is that you won. We will pass your info along to Lysa's team so your book can be mailed out.
***********************************************************************************************
Fish Tacos are all the rage here in the South, and probably where you live too. Make it a family affair or invite friends over. Preparing these can be a fun social time together. Divvy out the jobs, enjoy each other's company and create a wonderful meal at a fraction of the cost of eating out!
The basis for this recipe comes out of the Spice to Plate cookbook published by the Savory Spice Shop. I have modified it for our family's taste. The original recipe calls for a batter and deep-frying the fish. I prefer the healthier option of grilling the fish. Both options are presented here.
I do use the Savory Spice Zanzibar Curry (available online at www.SavorySpiceShop.com) however, we equally love using any blackening season instead. Use your favorite fish seasoning and make it your own!
First, gather all of your Ingredients:
Red Onion
Apple Cider Vinegar
Sugar
Salt
1 c. full fat Greek Yogurt
Optional – Mayonnaise
1 lime
Zanzibar Curry Powder (or your favorite fish seasoning)
1 Tilapia Fillet per person
Flour
Cornstarch
Baking Powder
1 can of light beer (use your favorite kind here – the darker it is, the more it will impact the flavor of the batter).
1 egg
12 – 16 corn tortillas
Mini Sweet Peppers
Red and Green Cabbage
Fresh Cilantro

 Step One: Pickled Onions
Thinly slice (almost shaved) the red onion – about 1 cup.
Mix onion slices with ½ tsp sugar and ½ salt. Place in a shallow glass dish and cover with enough cider vinegar to soak. Cover tightly and refrigerate.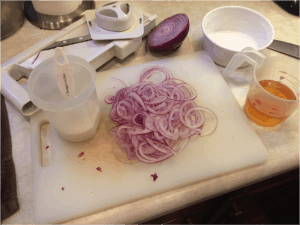 Step Two: Make the Sauce
Combine 1 c. of greek yogurt ( or half yogurt and half mayonnaise) with the juice of 1 lime, 1 ½ T of the Zanzibar Curry (or blackened seasoning or your favorite seasoning) and ¼ tsp salt. Mix together, cover and refrigerate.
Step Three: Make the Fish
 Grilled Option:
Liberally coat each filet with Zanzibar curry or other seasonong. Spray foil with a non-stick spray, place fish on the foil and then grill over medium heat until fish flakes apart.
For Beer Battered Fish:
Fish: Cut the filets into 2" long strips, toss with ½ T Zanzibar Curry (or other seasoning). Set aside.
Batter: (This makes enough for the entire recipe. If making a combination of grilled and battered – cut this in half)
In a large bowl: whisk 1 c.. flour, 2T cornstarch, 1 tsp baking power, 1 tsp salt, 1 T of Zanzibar Curry (or other seasoning), 8 oz of beer, 1 egg. Batter should be slightly lumpy.
In a cast iron or heavy skillet/dutch oven, heat vegetable oil – should be 2" deep. Oil is hot enough when a drop of batter floats and sizzles.
Assembly Line close to the stove:
Fish
A shallow plate of flour
Batter bowl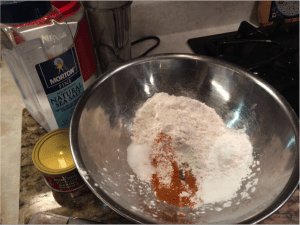 Lightly dredge each piece of fish in flour, coat in batter (let excess drip off). Fry pieces for about 4 minutes (turning if needed) or until batter is golden brown. Drain on a paper towel.
Step Four – Prepare the accents (concurrent with Step 3 if you have help)

Slice mini peppers into rings
Shred cabbage
Chop fresh cilantro
Arrange on a plate or in bowls for passing.
Heat corn tortillas on a griddle.
Gather around the table and create your own masterpieces!
(Don't forget the pickled onion and the sauce you made earlier that is in the fridge!)
Enjoy!
*******************************************************************************
Denise Roberts is
a wife, mom, and joyful soon to be mother-in-law. She loves sharing a good cup of coffee on her back deck with friends and morning snuggles from her 100-lb. chocolate lab, Hudson.
She writes with a passion to share how to live holy, where faith and life intersect. Connect with her at www.deniseroberts.org