DIY Canvas Photo with April Wilson for #LoveYourLifeFriday
I simply love the canvas wrap photos that are very popular right now. However, I've never ordered one because they can be pretty pricey even with a discount code or coupon!
A few years ago when we repainted our living room I wanted to display a really beautiful sunset photo that I had taken at one of our favorite lighthouses on Lake Michigan. I wanted it to be fairly large so that it didn't get lost on the wall, but I also didn't want to spend a fortune, so I set out to make my own canvas photo.
Since then I've made several more to give as gifts or to hang in different rooms of our house. They hold up very well! On our most recent vacation I took a photo of a Lake Michigan sunset on a windy night after a very stormy day. When I look at it I am reminded of the beauty that can come out of a storm.
For this project you will need:
A photo (size of your choice)
A canvas the same size as your photo
black or dark brown craft paint
foam paint brush
Mod-Podge (matte or satin)
Choose your photo and have it printed. Depending on where you have your photo printed, if you have a print made larger than 8×10 you may have to trim the white around the edges. I had a 16×20 printed at Sam's Club, so I had to trim about 1/8″ from each side of the photo.
2. Paint the outside edges and a little over the front side of the canvas. This will take a couple of coats to cover well. Let the paint dry thoroughly before you move to the next step.
3. Once the painted edges are completely dry, cover the canvas with Mod Podge. You want to spread quickly as the Mod Podge starts to dry as you spread it.
4. After the canvas is completely covered center your photo on the canvas and press down from the center toward the outside to remove any air bubbles. Once it is smooth I also run my finger around the entire edge just to make sure the edges are all stuck down. Let this sit and dry for 20-30 minutes.
5. Dip your brush in the Mod Podge and brush it over the top of the entire photo making sure you go over the edges of the photo. Don't panic, your photo will turn white to begin with, but it will be okay, I promise! Let this coat dry and then do 1-2 more coats letting it dry for at least 30 minutes in between each coat.
6. Once it is completely dry you have a beautiful canvas photo to display or give as a gift!
********************************************************************************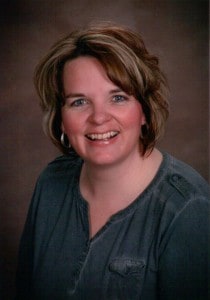 I'm from a small mid-western town in Michigan where I have lived since I was in elementary school. I married my high school sweetheart and we have a teenage son and a daughter who just got married, giving us a wonderful son-in-law. I enjoy flower gardening and anything else that I can do outdoors during the summer months. As a family we love to camp all around this beautiful state of Michigan that we call home. When I'm not working full-time at my "real job", I escape from the everyday stresses of raising teenagers through sewing and crafting. I started my Etsy shop with just aprons and have branched out from there. I'm not afraid to try something new and have several "Pinterest Fails" to show for it!
NOTE FROM KAREN: My home is filled with "April Wilson originals". She is the crafty woman I wish I could be. :-) Here is a link to some of her homemade items you will LOVE! CLICK HERE FOR APRIL'S SHOP!