12 Days of Christmas Kindness – Day Four
It's Day Four of 12 Days of Christmas Kindness, giving simple and doable ideas for reaching out to others during the Christmas season. If you're just joining us, catch up on each day here.
For Day Four, let's treat someone with an extra-grateful tip. 
Here is another idea for spreading kindness this Christmas season: Over-tip a restaurant server, barista, hair stylist, nail technician, or other such worker and attach a note thanking them for their faithful service all year long. These FREE printable cards make it easy!
Click picture below to download FREE printable cards.
Now for today's giveaway!!!
Today I'm joined by my friend, Arlene Pellicane. Arlene is a speaker and the author of five books. We first met nearly a decade ago when she was an attendee at a moms conference where I was speaking. Now she and I are both serving together as writers at Proverbs 31 Ministries. ?
Arlene's Day Four Giveaway is a bundle of two copies of her book, 31 Days to Becoming a Happy Mom. One is for you to keep and one is to give to a friend. You can do discussion questions together and be happier moms together in the New Year! Visit Arlene at The Happy Home, and be sure to check out her Happy Mom Podcast. You can also connect with Arlene on Facebook and Twitter.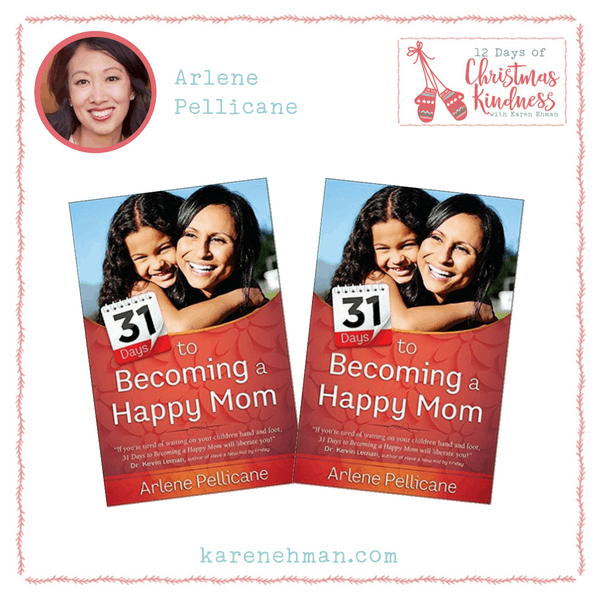 Are you ready for Day Four? Let's go!
Leave a comment here with your thoughts on today's idea for scattering kindness.
Go scatter kindness with an extra-grateful tip.
Post on social media using the hashtags #12DaysOfChristmasKindness and #ListenLoveRepeat. You can just post a simple thought. Or, you can save and then share today's Christmas kindness idea. Or, even better, post a picture of you doing the idea given for scattering kindness. Just be sure to use the hashtags #12DaysOfChristmasKindness and #ListenLoveRepeat And, if you could link to this post when you share, that would be FAB!
Don't forget our Grand Prize! Those who scatter kindness all 12 days and share on social media will be eligible to win our Grand Prize!
You can comment on all 12 days up until midnight Pacific time, Sunday, December 18. One daily winner will be chosen from each day's comments and all winners will be announced on Monday, December 19. **U.S. Addresses only please.**
The Grand Prize!!!!
Now let's go scatter some Christmas kindness and be sure to come back tomorrow!
Save