Buttermilk Whole-Grain Oat Waffles for #LoveYourLifeFriday
I feed a lot of people at my house. Most often over the years, it has been a Saturday morning meal served to a bunch of football or baseball players. Or a group of teenage girls that crashed overnight when my daughter was in middle or high school.
Rather than just pour bowls of cereal (which is totally fine, but rather boring) I love to serve something hot. My favorite go-to dish is buttermilk whole-grain oat waffles, a recipe given to me by my best friend Kelly from college over a decade ago. They are super simple and always a hit. And you can easily make them gluten free. Even kids who think anything made with whole wheat tastes like cardboard can't get enough of these moist and fluffy waffles.
I actually have two waffle makers (when nearly half of the starting line up for the football team is eating breakfast at your house, you have to make LOTS of waffles fast!) I have a standard one that makes one at a time and a fancy-pants one that makes two at a time that I bought off Craigslist from a newlywed couple who got it for their wedding and didn't want it!
Here is how they are made:
Ingredients:
1 1/2 C. quick oats (not whole oats)
1/2 C. whole wheat pastry flour (fresh ground is best but if purchasing at a store, choose whole wheat pastry or whole wheat white flour rather than just whole wheat. You can always use a gluten-free flour blend or oat flour in place of the whole wheat flour.)
1 t. baking soda
1 t. sugar
1/2 t. salt
2 C. whole buttermilk (not low-fat)
2 eggs, beaten
2 T. melted butter, slightly cooled
First, crack and beat eggs by hand for one minute in a small bowl. Then, melt butter in a pan on the stove top over very low heat (or microwave if you wish). Cool slightly in a medium sized bowl and add buttermilk, stirring well. Then, mix in beaten eggs.
In a another bowl, measure quick oats, flour, baking soda, sugar, and salt and stir well.
Combine the wet and dry ingredients mixing just until blended. DO NOT over-mix.
Heat waffle iron and spray with cooking spray. Pour batter into waffle iron. (My round Belgian waffle maker takes 2/3 C. per waffle). Close waffle iron and bake 1 1/2 minutes. Flip and bake 30 seconds more. (NOTE: Consult your waffle maker manual to see if your times vary.)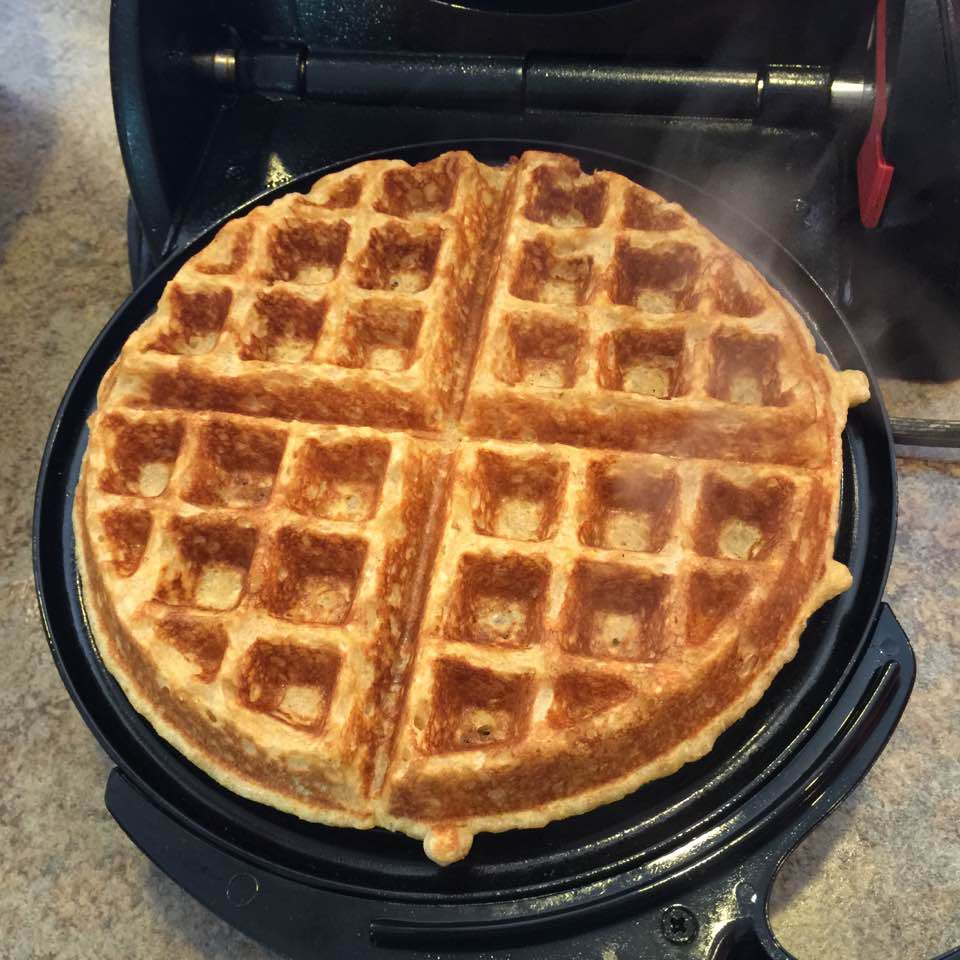 Top and serve. We use real butter, pure maple syrup from a local Michigan farm, natural peanut butter, and my homemade strawberry or raspberry jam. And of course we serve them on the best dishes to use when feeding nearly a dozen teens—paper plates!!!
Happy whole-grain goodness. ENJOY!
*******************************************************************************