For Better or For Worse: 5 Real-Life Marriage Books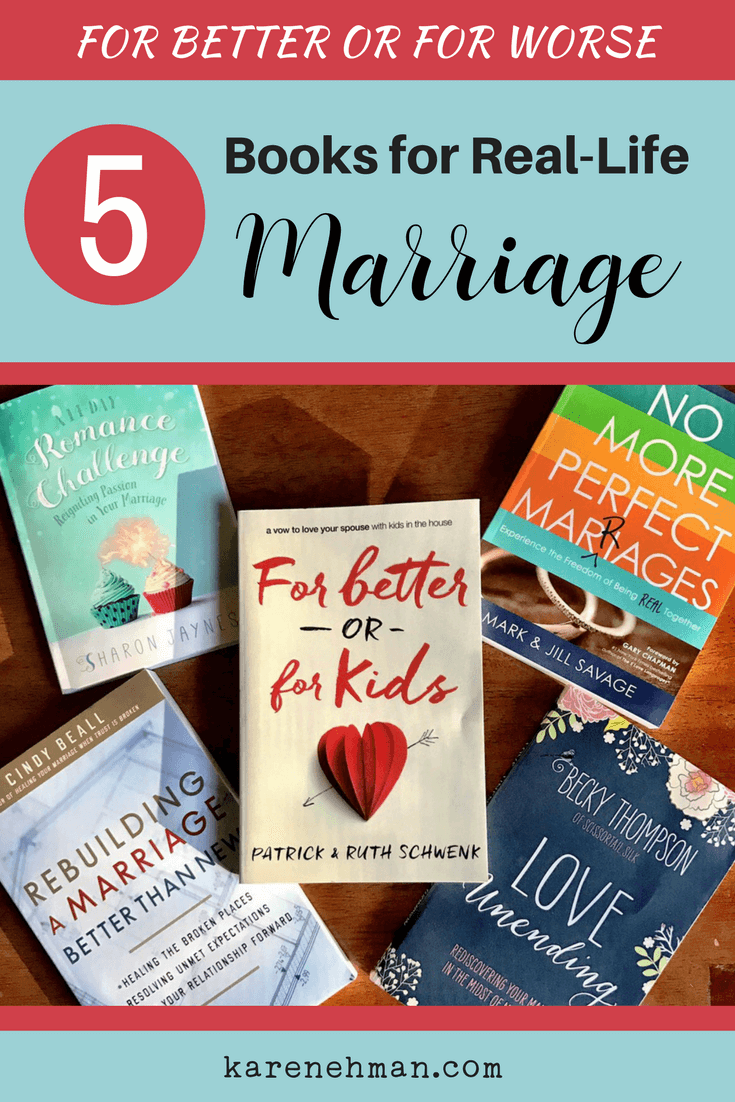 Marriage is hard. So very hard. As in he-drives-me-so-crazy-it-makes-my-head-explode hard.
Can I get an "Amen"?
And sometimes, marriage is even more laden with serious problems than that. Infidelity. Neglect. Abuse.
Hard stuff.
My husband and I have walked through tough marriage situations such as these with many couples. Some sadly ended in divorce, no matter how much one of the spouses didn't want it to. You see, it takes two people to make a marriage work. Unfortunately, it only takes one to break it up.
Other couples we've known have been able to forgive, reconcile, and rebuild their broken marriage, again because both were willing to do so.
In the past year I have had five different friends each come out with a helpful and honest marriage book. Some are just encouraging and helpful and some are for the marriage in trouble. I thought this week was a great time to tell you about all of them! Affiliate links may be included, I only recommend books I love that bring value to my readers.
For Better of For Kids: A Vow to Love Your Spouse with Kids in the House by my co-author Ruth Schwenk and her pastor husband Pat. If you have kids and don't want to settle into a pattern of just being parents without still being lovers, this book is for you! It also addresses the stresses on marriage that come from parenting.
P.S. Got kids? You might want to check out this all-new bundle of joy.
Rebuilding a Marriage Better Than New by Cindy Beall. Cindy's marriage took quite a hit when she discovered that not only had her husband been unfaithful, but the woman was pregnant with his child. I heard Cindy speak at an event where we were both keynotes. I cried my fool head off. Not because of the tragic tale but because of the miraculous way God rebuilt her marriage. Seriously. I can't stop smiling every time I spy a pic of Cindy and her husband and their boys on Instagram. This book is a great tool for healing and hope.
Love Unending: Rediscovering Your Marriage in the Midst of Motherhood by Becky Thompson of Scissortail Silk blogging fame. This gal is a fabulous blend of encouragement and reality all wrapped up in the truths of scripture. Join her for a 21-day journey to remember what life was like when you first fell in love with your husband. Each daily challenge, reflection, and prayer will refocus your attention, re-center your heart, reignite the romance, and help you rediscover your marriage in the midst of motherhood.
A 14-Day Romance Challenge: Reigniting Passion in Your Marriage by my Proverbs 31 ministry partner Sharon Jaynes. Does your marriage need a little help in the romance department? Has it grown ho-hum in the daily routine? If so, it's time to spice up your relationship and rekindle the passion with hundreds of creative ways to show your man just how much you love him.
No More Perfect Marriages; Experience the Freedom of Being Real Together by Mark and Jill Savage. The Savages have been friends of ours for over 20 years. We've seen them in ministry with spouses and parents and we've seen their marriage survive and affair five years ago that sent us to our knees begging God for redemption and reconciliation. After wearing out the knees on my jeans, we saw their marriage restored. In this book they speak honestly about their struggles, how they came back from betrayal, and the principles keeping their marriage strong today.
Which one of these books are you most excited to read? Or perhaps you've already read one or two? If so, I'd love to hear how they have helped strengthen your marriage. Have a great day!
Previous giveaway ended.
SaveSave