Skinny Ham, Egg, and Cheese Freezer Pockets for #LoveYourLifeFriday

These Ham, Egg, and Cheese Freezer Pockets are the most delicious make-ahead warm and filling breakfast that can be taken with you on the go!
Ingredients:
4 Tortillas of choice (I prefer whole grain)
12 oz Lean ham
1 cup Grated cheese of choice 
2 large Eggs
4 large Egg whites 
Method:
The estimated total time to make this recipe is 15-20 Minutes.
Preheat oven to 350 degrees. Place 4 pieces of foil on counter and spray with cooking spray. Place tortilla on foil. Place 3 oz ham in the middle of each tortilla, followed by 1/4 cup cheese in each.
Meanwhile, spray a large nonstick skillet with cooking spray. Heat over medium heat and add eggs and egg whites. Cook until eggs are cooked through, scrambling eggs as they cook. Remove from heat and divide eggs among 4 tortillas. Roll up tortillas and wrap in the foil.
Place foil pockets on a baking sheet and bake for 20 minutes. Unwrap and allow to cool to room temperature on a paper towel or kitchen towel. Once cooled, wrap tortillas in plastic wrap or foil, place in airtight bags and freeze.
When ready to eat, remove plastic wrap or foil and wrap in a paper towel. Thaw and warm through in the microwave for 1-2 minutes, or until warmed through, and enjoy! Or, for a more crisp tortilla, thaw then place in a 350 degree oven for 10 minutes, or in a warm skillet to cook both sides until golden. Enjoy!
Serves: 4
Enjoy! xo Katie Farrell
*************************
*************************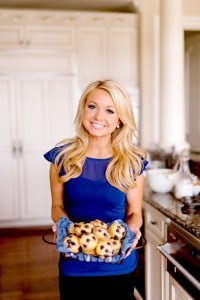 Katie Farrell is the author of Dashing Dish, a healthy recipe website and ministry to women. Katie is a registered nurse from Michigan, where she lives in Brighton with her husband of five years.Dashing Dish is a combination of Katie's passions—helping women find their identity in God and ending misconceptions about healthy eating.
Katie wants to inspire women to find the balance between spiritual and physical health, all while enjoying the journey!
Looking for some more yummy recipes? Check out Katie's books: Dashing Dish: 100 Simple and Delicious Recipes for Clean Eating  and Devotions for a Healthier You .