Flash Sale on The Ultimate Homemaking Bundle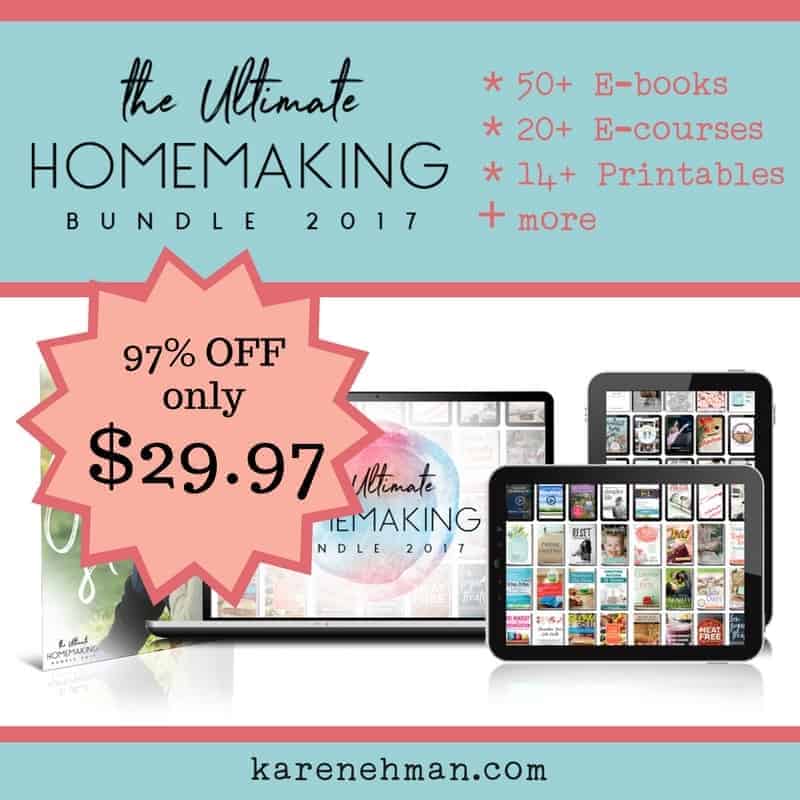 Drowning in the tasks of raising kids and keeping a home? Mothering and homemaking are not easy, for sure. Days filled with overwhelmed exhaustion. Clean clothes living in laundry baskets. Meals lacking in the nutrient department. Not to mention, you never imagined you'd be that mom (you know, the one who yells at her kids – ouch!).
Mothering and homemaking isn't a walk in the park for any of us.
That's why I'm going to give you the low down on a package of resources that was created to make homemaking easier and smoother.
It's called The Ultimate Homemaking Bundle, and it's put together for moms, by moms. The bundle has over 100 products to help you:
Implement a self-care routine
Bring order to your home (even with kids)
Control your temper so you're more patient with your kids
Rekindle romance with your spouse
Plan your meals with yummy recipes
And a whole lot more!
The combined value of the resources in the bundle is over $1980, but you get EVERYTHING for only $29.97! (Get yours here. )
In addition to the 12 resources in Meal Planning I can't wait to try, here are a few more I'm especially pumped about:
The Dig for Kids Bible Study (on the book of James) by Patrick and Ruth Schwenk
Curious Living Summit by Logan Wolfram
Matters of the Heart: a 52-Week Scripture Memorization Journey for Women by Carlie Kercheval
Living Well & Spending Zero by Ruth Soukup
Cozy Minimalist Decorating Class by Myquillyn Smith (aka The Nester)
The Inspired to Action Planner by Kat Lee
The Temper Toolkit: How to Take Control of Your Temper Before You Lose it! by Lisa-Jo Baker
Some of these resources alone are worth the price of the bundle! Don't miss out, the bundle ends Tuesday night. 
Upon purchase you will receive a download link for all of the ebooks and ecourses and bonuses along with a Getting Started guide.
If you want to learn how to make homemaking a little easier so you can have a lot more time with your family, The Ultimate Homemaking Bundle is just what you need.
If you purchase, I'd love to hear which resource you'll be trying out first. Get yours now and let me know! 

Affiliate links included. I only recommend products my readers will love.
SaveSave
SaveSave
SaveSave