Summer Strawberry Pie for #LoveYourLifeFriday
Hi friends, April here! Today I'm sharing a recipe that up until now I've only shared with family. Lucky you!
Now, during strawberry season, it is not unusual for me to make 5 or 6 pies just to have enough to go around. However, you may want to start with just one. Enjoy!
Strawberry Pie:
One pie crust (baked according to directions)
5 cups of strawberries
1 cup sugar
1 1/2 cups water (divided)
3 ounce box of strawberry Jello
2 Tablespoons of cornstarch
The first step is to bake your crust. If you are not a baker or don't have time to make a crust from scratch, just go to the store and buy a refrigerated pie crust to bake. I promise your pie will still turn out delicious! Bake your crust according to the directions and then set aside to cool.
While your crust is baking, combine the sugar and 1 cup of the water in a small saucepan and bring to a boil. Mix the other 1/2 cup water and 2 Tablespoons of cornstarch together and add to the saucepan once the sugar/water mixture comes to a boil. Reduce heat and boil gently for 5 minutes while stirring. The mixture will thicken slightly and become more clear.
After 5 minutes remove from the heat and stir in the powdered jello mix. Stir until mixed well and pour into a bowl to allow it to cool. You can set this in the refrigerator to cool a little faster if you need to.
Wash and slice your strawberries while the crust and gel are cooling. I usually halve or quarter the berries depending on how big they are. This pie tastes the best with in-season, ripe strawberries! Measure out 5 cups of berries once they are cleaned and cut up.
After the crust and gel have cooled, fold the gel mixture into the cut berries until all berries are covered.
Pour the mixture into your pie shell and refrigerate until set. It is best to let this sit overnight, but if you just can't wait, a couple of hours in the fridge will set it up enough to enjoy.
I normally only make strawberry pies when berries are in season here in Michigan, so they are a special treat!  Since it's almost strawberry season, I thought I would finally share my recipe.  I hope you enjoy it! Happy baking!
P.S. Friends, it's Karen here… just in case you like reviews with your recipes… April recently blessed us with one of her pies, and my boys gave it 25 gold stars saying it was "to die for".  :) 
**********************************
**********************************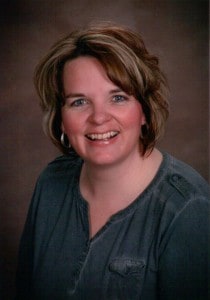 April Wilson is from a small Midwestern town in Michigan where she has lived since she was in elementary school. When she's not working full-time at her "real job," she escapes from the everyday stresses of life through sewing and crafting or spending time with her family, especially her first grandson. Check out her creations in her Etsy shop.