Summer-spired Gift Baskets for #LoveYourLifeFriday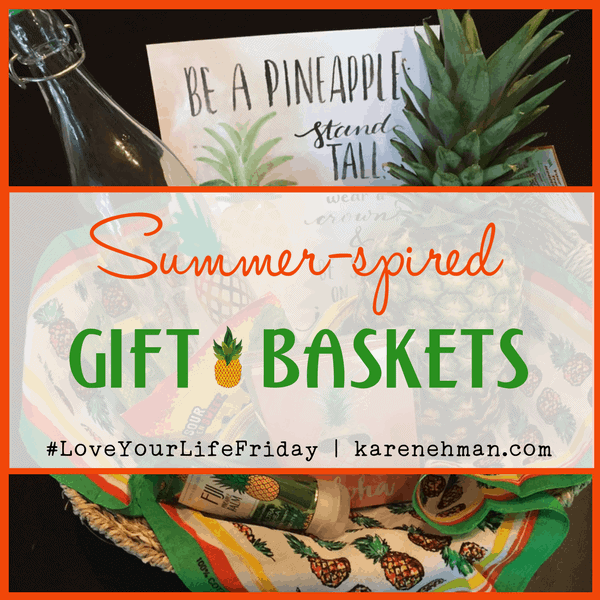 Hi friends, Chessa here, sharing my new favorite gift basket ideas, themed for birthdays, graduations and 'just don't know what to get them' moments.
Pineapples are all the rage, and it was easy for me to collect pineapple mementos, scents, and flavors … all with cute fruit images.
 I found this basket and bandana, both at Wal-Mart. The basket was less than $5.00 and the bandana was $1.00.
 I started by lining the basket with my pineapple bandana.
 And then I added the fun stuff: some lotion from Bath and Body Works.
 A few treasures from Target.
 Cute set of cards from Old Navy.
 I needed another grad gift for a special friend who is attending Clemson University in the fall.
I got a 1/2 yard of this cute bandana/Clemson fabric from my local Wal-Mart.
Then I started gathering orange treasures, to fit into this basket.
 I suspect some of these treats might not make it through the summer, to the start of school, but that's okay!
Cute tags were a special touch, in the basket.
 Two cute and summer-spired gift basket ideas!
Check out all of Chessa's creative DIY #LoveYourLifeFriday posts here.
*********************************
Chessa Moore is the wife of Ben and the mother to teens and near-teens: Sidney, Tyler and Katelyn. She's the kind of girl who can't sit still and always has to be creating something. If she sees something she likes, she sets out to determine a way to create it herself! Occasionally, this means she gets her handy-husband and creative-kiddo's involved in the project (voluntarily or otherwise)!
You can find her documenting these adventures on her blog, Antsi-Pants. Chessa loves to spend her summers in Michigan, on the beaches of Lake Michigan, enjoying the mild winters in North Carolina, and checking out God's creative handiwork, every place in between.
SaveSave