When it comes to parenting, we often feel surprisingly unsure whether we know what we're doing at all. We love our children like crazy, and yet, half the time we shake our heads and wonder if we're getting it all wrong and why this parenting gig is so hard?
Can I get an Amen?
Sometimes parenting is awesome. And sometimes it's not.
We'll take the not-so-awesome parts along with the beautiful parts. Because it's so worth it. But if we could find resources to help make it a little more awesome and a lot less hard? It'd be a no-brainer, right?
Well, look no further, because I found an all-new bundle of joy for you: The Parenting Super Bundle. I'm so sure you will love it that I'm including my own bonus! Details on that below.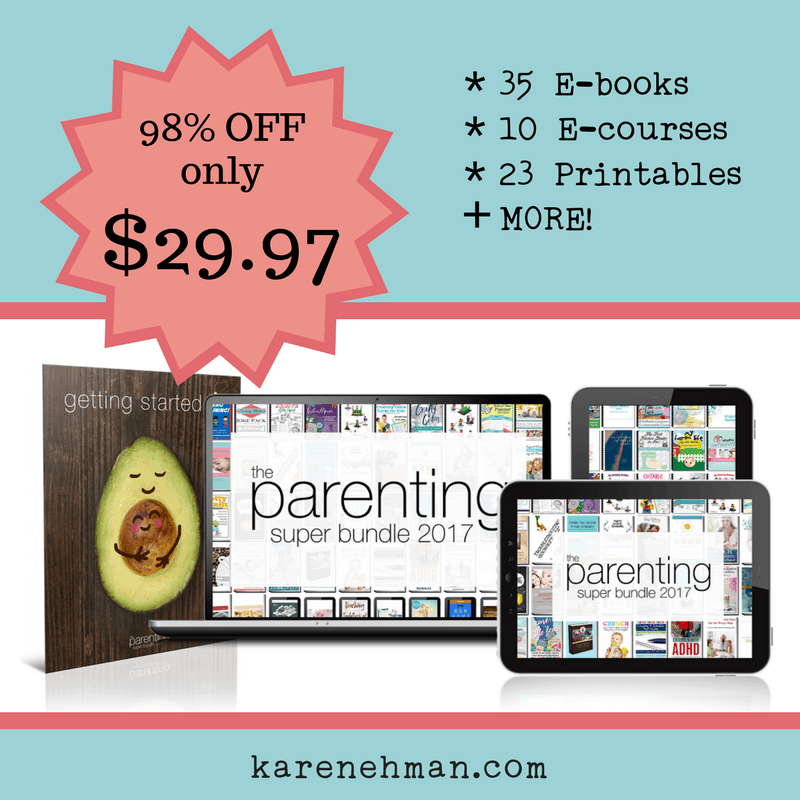 For less than $30, this brand-new bundle of e-books, courses, and printables will help you:
Apply step-by-step solutions to common challenges like whining, arguing, homework, and lack of cooperation
Build stronger relationships with your kids (even your teens)
Stop playing referee in sibling battles (and teach them how to work things out)
Instill gratitude, kindness, and helpfulness in your child
Become a kinder, more intentional parent
and feel encouraged and inspired in your parenting.
You sort of need to see it to believe it, but the package includes 80 digital products worth over $1270 for a whopping 98% off!
My Bonus: Buy through my affiliate link, and redeem your receipt for my brand-new mini workbook, How to Live Your Priorities: Saying So Long to Crazy. It's not available anywhere else yet. Click here for details.
As you already know, parenting is amazing and difficult. Enjoying it even on the craziest of days is not impossible. Grab your bundle of joy and get started today!
P.S. There's an early-bird bonus today and tomorrow only: FREE eReader upgrade of the bundle. Don't miss out on taking these resources on the go on your Kindle or Nook apps for FREE!

*affiliate links included and I only recommend products I love that will bring value to my readers.