Homemade Pumpkin Puree for #LoveYourLifeFriday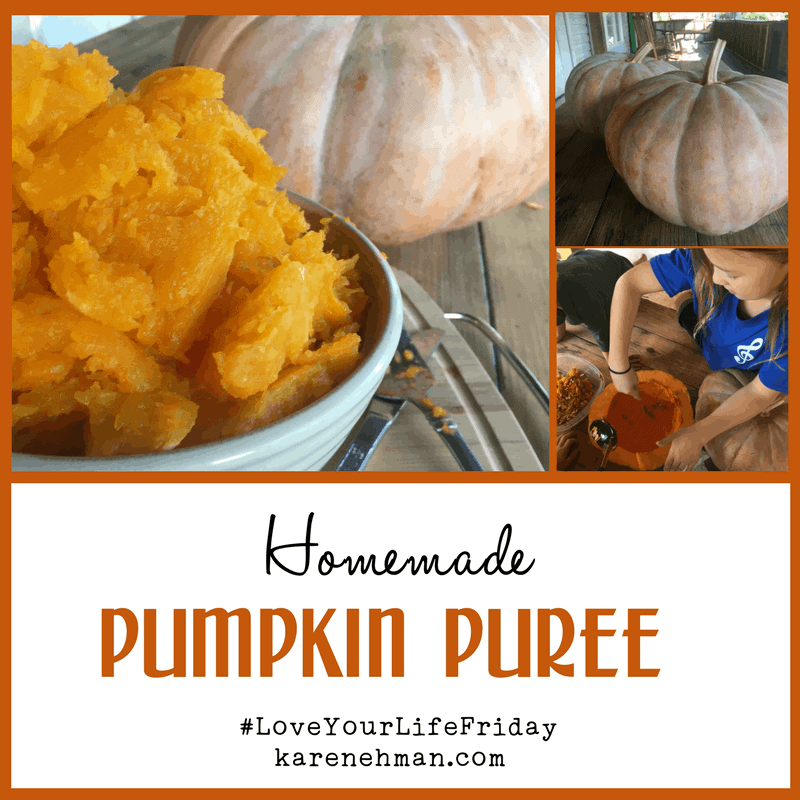 Are you a fan of fall? I am! Or maybe I love every season, but I'm partial to fall because of the pumpkin-everything. Pumpkin pies. Pumpkin chocolate-chip bars. Pumpkin wheat muffins. Parmesan pumpkin pasta. Ooey gooey pumpkin cake. My mouth is watering already!
The flavors of fall are definitely what endears me to the season and not the weather because here in Florida, it's hot all the time.
A friend of ours recently delivered a truckload of pumpkins he grew in his backyard so it was the perfect opportunity to bake our own fresh pumpkin puree for our fall menu. His wife makes pies from them every year and they're delicious!
Disclaimer: Please note that the best pumpkins for pureeing are traditionally from the smaller pumpkins because they're more flavorful and less watery. The pictured pumpkins are the exception. When you're shopping, do search for the smaller pie pumpkins to be sure of the best flavor possible and leave the bigger pumpkins for carving.
As my family grows, I strive to find the most bang for my buck, whether it's food or fun. Or both. I rounded up some of my kids to help and they had an absolute blast. So get your big silver spoon out and your small pumpkins so we can make some puree!
You'll need:
small pumpkins for baking
jelly roll pan/cookie sheet with sides
large spoon
Step One
Preheat oven to 350 degrees. Rinse off your pumpkin. Cut it in half. Scoop out the seeds and pulp with your spoon and reserve the seeds for roasting.
Step Two
Fill jelly roll pan halfway with water. Set your pumpkin halves in it. (I've done face down and face up and it's not made a difference for me.)

Step Three
Bake 40-45 minutes or until fork-tender. Carefully remove from oven and set aside to cool. Once cooled, peel the skin back or simply scoop the pumpkin from the shell. Puree in a food processor or blender, adding a tablespoon of water at a time if necessary. Use immediately in your favorite pumpkin recipe or store in 1-cup increments in ziplock bags in the freezer.
Ta-da! You've just made your very own pumpkin puree!
I remember the very first time I tried this and declared canned pumpkin was the only choice for me. Since then, I've tried it again with great success. If you run into problems, try these tips first.
Troubleshooting pumpkin puree:
If your puree is too watery, try straining it through a cheesecloth.
If your pumpkin is too hard, pop it back in the oven until your fork easily pierces the flesh.
If it doesn't seem to be cooking quickly enough, turn up the heat to 375 degrees.
Don't forget!
After you've pureed your pumpkin, don't forget about the seeds! Rinse them well, toss in a little bit of oil and sea salt and roast them for a delicious snack!
******************
Amanda Wells is the proud wife of a smokin' hot third-generation farmer, and they have taken Psalm 127:5 literally, raising their quiverful of six kids on the farm. She loves baking, reading, writing, and arithmetic (kidding!). Amanda writes about faith, homeschooling on the farm, and family life at farmwyfe.com.