Freezer Apple Filling for #LoveYourLifeFriday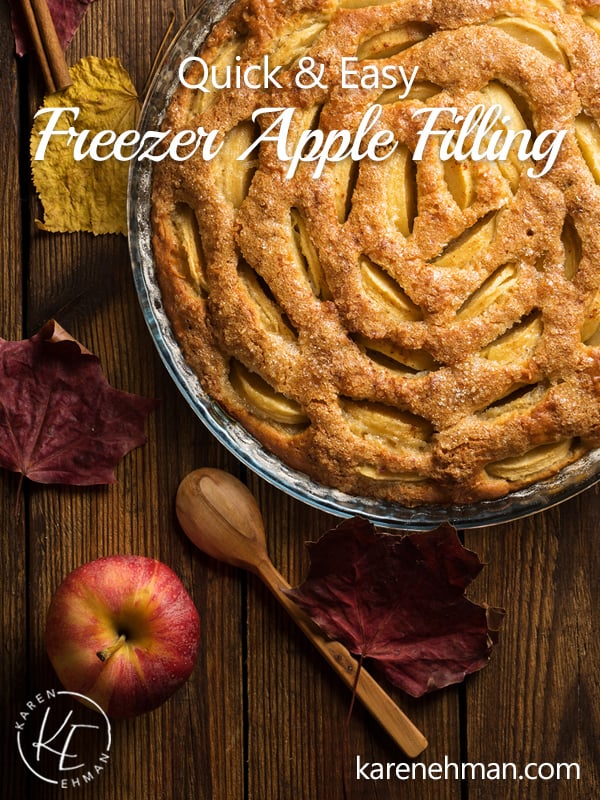 Fall is here and along with that comes the onslaught of pumpkin everything, which I love, but another one of my favorite things about fall is fresh apples right from the orchard. Just the thought of biting into a crisp, juicy apple makes my mouth water!
Several years ago I was overly ambitious and bought a couple of bushel baskets of apples at our local farmer's market. I figured I would can homemade applesauce, make a few pies, apple crisp, caramel apples for the kids, etc.
Well, I did make the applesauce and some apple crisp and the kids enjoyed caramel apples, but I still had a bunch of apples left. I didn't want them to go to waste and figured that as much as my family enjoyed apple desserts that maybe I would try to freeze some apples, like I did other fruits, to use throughout the winter.
This was before Pinterest was a big thing, so I didn't really have anywhere to go to search for a recipe or how-to. I just went for it, figuring the worst thing that could happen would be that I would end up throwing out the apples if they didn't freeze well.  Since my family loves apple crisp and it's usually pretty quick to throw together if you don't have to peel, core and slice the apples, I started out with the apple filling for my apple crisp recipe.
Freezer Apple Filling
6 cups of apples, peeled/cored/sliced
1 cup sugar
1/4 teaspoon salt
2 teaspoon cinnamon
2 Tablespoons flour
2 Tablespoons water
Peel, core and slice your apples. If you have an apple peeler/corer/slicer this is a super quick and easy job and your kids will want to help (bonus!).
After the apples are peeled/cored/sliced, cut the apple into quarters.
Toss the apples into a bowl and mix in the remaining ingredients, stirring until well mixed and all the apples are covered.
Scoop the mixture into freezer bags, squeeze out any air that you can and lay flat. They are ready to throw into the freezer!
When want to use your frozen apple filling, simply thaw in the fridge overnight or on the counter for an hour or so before baking. Top with a crumble topping for apple crisp or throw it in a pie crust for apple pie. The apple filling will last at least six months in the freezer – if your family doesn't eat it all before then!
This quick and easy freezer recipe is a great way to make fresh fall apples last all year long!

**********************************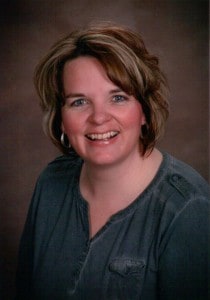 April Lech is from a small Midwestern town in Michigan and is a wife, mom, and grandma of two. When she's not working full-time at her "real job," she escapes from the everyday stresses of life through sewing and crafting. Check out her creations in her Etsy shop.