Who Has The Best Pumpkin Spice Latte?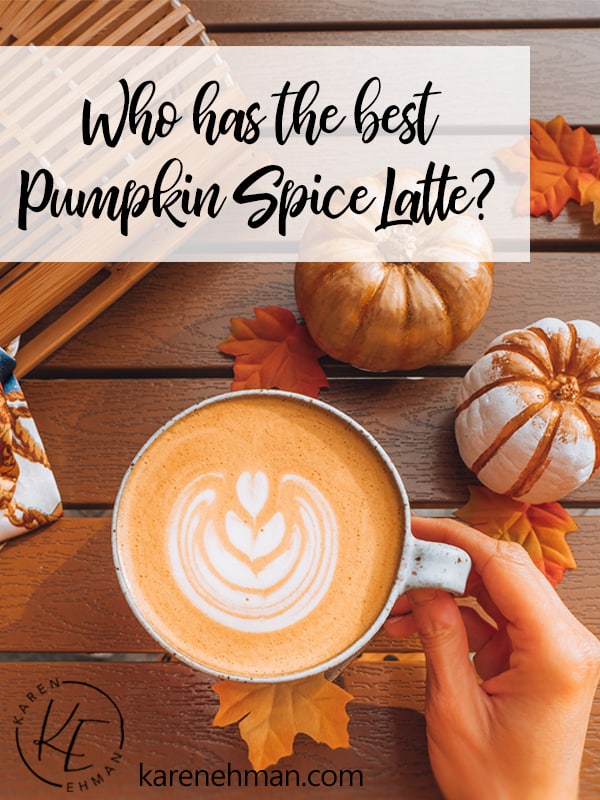 This is a PSA about PSL's. Bahaha, I couldn't resist using all those letters together! This is more than a public service announcement about pumpkin spice lattes, this post is a QUEST for the best pumpkin spice latte!
Whether you have tried a PSL before or whether you are ready to try one for the first time, the following analysis will help you negotiate the hot-beverage landscape for autumn ! In this post I will go to six different chain cafes in order to contrast the subtle spices and creamy froth top of fall's superstar flavor!
Throw on a plaid shirt and scarf and join me on this parade of pumpkin spice sips and whipped cream lips.
Here we go!
First stop: McDonalds
Cost: $2.51 (Cheapest PSL)
Spice Flavor: B-
Sweet: B
Smoothness: C
Presentation: D+ (No whip cream or cinnamon dust here)
Overall: C
Comments: This latte was the most orange in color and least expensive. It was also the least smooth of all the PSL's that I tried. It also was the hottest in temperature of all the PSL's that I tried. If you want a cheap, convenient and HOT PSL, then this might be the one for you.
Second stop: Dunkin' Donuts
Cost: $2.53
Spice Flavor: C (Least amount of Pumpkin flavor)
Sweet: B+ (I like that this PSL wasn't too sweet)
Smoothness: B-
Presentation: C+ (froth game is strong, but no whipped cream)
Overall: C+
Comments: I didn't like the balance of this one. It felt more like a coffee with a hint of a PSL. I DID like that it wasn't too sweet, but I really felt like this latte was missing the PSL magic.
Third stop: Biggby
Cost: $4.45
Spice Flavor: A (What an improvement from last year!)
Sweet: A
Smoothness: A
Presentation: A+
Overall: A
Comments: Biggby had the best presentation! The whipped cream was fluffy and piled high. The caramel was drizzled artistically and you could tell it was made with care. Biggby had the most distinctive clove flavor. I liked it. Last year, surprisingly, Biggby was my least favorite PSL, but this year I was shocked at the recipe change! Nice job Biggby!
Fourth stop: Panera
Cost:$4.23
Spice Flavor: B+ (A bit too much PSL flavor)
Sweet: A-
Smoothness: A
Presentation: A+
Bonus Customer service rating: A+
Overall: A
Comments: The spice overpowered the pumpkin flavor and both overpowered me ever so slightly. However, Panera had 3 huge wins: 1) We had a long wait and they ended up upgrading our small PSL to a large without us even asking 2) They loaded me down with a GENEROUS helping of scrumptious caramel syrup. Yum. 3) They said it was free because of the wait and again, we didn't even ask! They said it was "on the house tonight!" (They also didn't know I was an undercover PSL enthusiast writing a review! ;)
Fifth stop: Starbucks
Cost:$4.51
Spice Flavor: A+
Sweetness: A+
Smoothness: A+
Presentation: A
Overall: A+
Comments: Starbucks is the winner for chain restaurants. It is just THE BEST! The only reason I didn't give their presentation an A+ was because their whipped cream (though tasty) wasn't as fluffy as Biggby, and whipped cream is a serious matter, but everything else about this drink was impeccable. All the right balance in the spice to sweet ratio.  All the right creaminess. All your money too, but if you want the perfect PSL, you will find it here!
Sixth Stop: Tim Hortons
My last stop was supposed to be Tim Horton's but I tried going to two different locations and at both of them the latte machine was down. So, you'll have to check them out for yourself.
Maybe you like a stronger clove flavor or a toned down pumpkin taste or perhaps you have meager funds and a bit of a sweet tooth, either way, now you have all the information to make an informed PSL purchase!  You and your Pumpkin Spice Latte are going to have a beautiful season together. If you don't, well, we'll just have to go try a few more cafes next time.
May you have a fall season as rich as a pile of whipped cream cross-hatched in caramel.  Happy Autumn!
SaveSave