12 Fabulous Gifts for Friends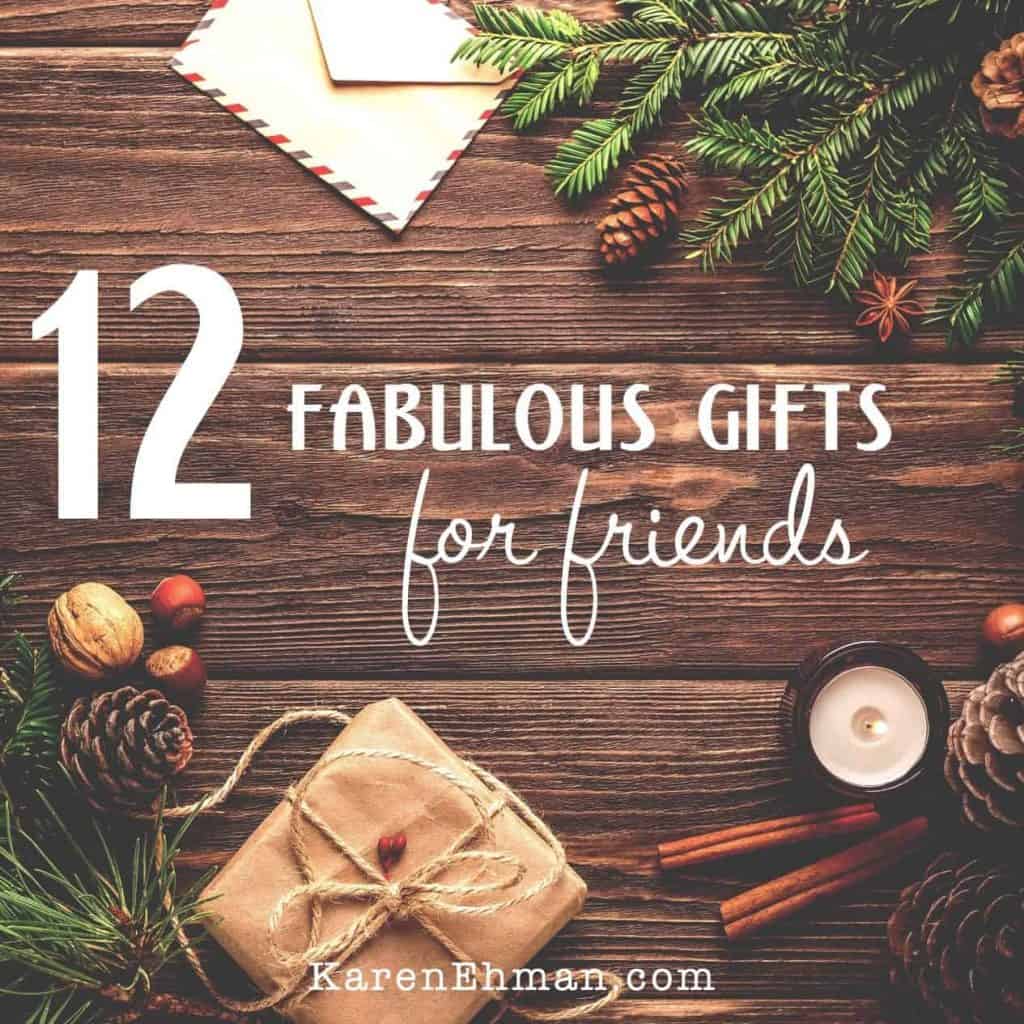 We all have a friend or two (or three or four) who we'd like to remember at Christmas. But what can you get her that she will appreciate but that won't put a strain on your holiday budget? (After all, you need to have a little leftover for a gingerbread latte to sip while you shop, right?)
Here are 12 of my favorite go-to gifts to give to friends. Some are practical. Some are pampering. All are completely fabulous.
Grab a cup of something hot and creamy and shop away!
A must-have for the guacamole and avocado lover. It has a safe pit remover and tools to get every last bit of the delicious green fruit out. (Yes, it is actually a fruit!) We use ours all the time.
No more escaping pasta or veggies when trying to drain a hot pan. Clips on and stays on.
Maybe you saw this handy kitchen cleaning item on Shark Tank. Dip it in warm water and it will take on the form and feel of a traditional sponge. When dampened with cold water, the sponge will firm up, making it easy to clean deeper stains without scuffing up your surfaces. You can use the Scrub Daddy's smiling face to easily clean silverware by inserting it in the smile on the sponge. And, unlike most sponges you'd find at your grocery store, the it is odor-free and washes off clean, so you won't have remnants of what you've cleaned all over it.
Have a friend who likes to make notes in the margins of her Bible? Does she like to hand-color to illustrate the truths in scripture? She'll love this hard-cover, cloth-bound Bible in the newly released Christian Standard version. This translation incorporates advances in biblical scholarship to improve upon word choice and style. And the wide margins make it perfect for note-taking and illustrating.
No worries about these pens bleeding through even thin Bible paper. Best. Bible. Highlighters. Ever.
I simply love this cute return address stamp. I've had ours for nearly four years and haven't needed to re-ink it yet. And it is in such a cute and readable font.
The perfect portable size and such a cute shade of blue. Your journaling friend will love it.
My mom got me some of this a few years ago. I absolutely love its light orange-honey scent. Pure natural ingredients. Free of harsh chemicals. Certified organic.
 These candles are made with naturally biodegradable and eco-friendly 100% pure soy wax. And these scents are amazingly fragrant and long-lasting. Buy the triple-pack and split it between three different friends.
Candle wicks need to be trimmed short so the wax–especially in jar candles–will melt evenly. This little tool makes it a snap. So much easier than trying to get down into the jar with a pair of scissors.
Once one of my friends blew out a candle and then left to go run a quick errand. When she returned, her dining room table and drapes were on fire! Seems when she blew out her candle, a tiny ember from the wick landed on her table runner and began to smolder. Soon it was in flames and spreading. I learned then that my mother-in-law was right when she gave me my very first candle-snuffer and told me it was the safest way to extinguish a candle.
Finally, for that dear friend who is like a sister to you. This go-with-anything piece of jewelry will remind her of your treasured friendship. So sweet.
Are there any other go-to gifts that you like to give to your friends? Tell us in the comments.
Happy shopping!

(Affiliate links included at no additional cost to you. I only share products I know my readers will love.)