Superfood Smoothies (to balance out the Thanksgiving Feasting) for #LoveYourLifeFriday
It's #LoveYourLifeFriday! Each Friday we feature a practical idea from our team of creative women who provide fabulous DIY projects, recipes, money-saving strategies, decorating ideas, holiday activities and even spiritual growth tools that will help you to live your priorities and love your life. Affiliate links may be included. We only share about products we know our readers will love.
********************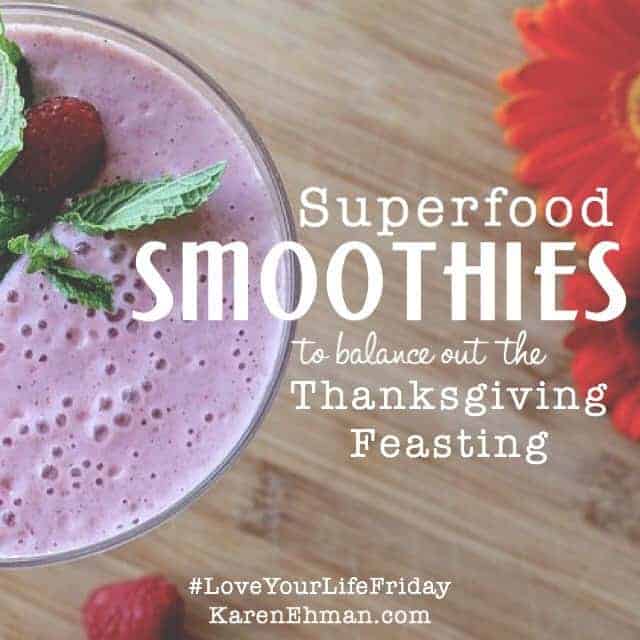 In our family we really try to live by the 80/20 rule, where 80% of the time we do our best to choose healthier options but the other 20% of the time…we just don't.
I have commitment issues, I guess.
But also, I like food (meaning cheese pizza, brownies and chocolate chunk cookies) and living on the edge…(but just a little).
So 80/20 works well for me.
Except for those times when the 80% is actually UNhealthy options…But that's usually just one week out of the month…some things just can't be helped!
So while I fully plan on enjoying the upcoming holidays, I'll also be doing my best to eat healthy so that things don't get too out of control.
And in case you're looking to do the same, I thought I'd share where I'm most considered a foodie in our house, and that's in the area of smoothies. I'm obsessed. I love them like candy and could literally drink one for every meal of the day. I don't. But I could.
So today I'm sharing my favorite smoothie essentials, along with my two favorite recipes.
Okay, so first up, let's talk about my Superfood Smoothie Essentials:
Vitamix | You guys, I have had a LOT of blenders in my life, and none have ever stolen my heart the way the Vitamix has. If you're wondering if it's worth the money, it is. Just go. Do it. You can thank me later.
Pinterest | This is where I really do get most of my recipe ideas for some of the tastiest smoothies I've made. And while you're on there, make sure we're following each other, will ya?
Green Zone Nutrition Powder | This stuff is absolutely packed with a ton of superfood greens but the amazing thing is that it actually tastes really good! When I'm super lazy, I'll just add it to a shaker cup of water and ice, and it still tastes so delicious.
Flaxseed | Fiber, Omega 3's and even a dose of estrogen & antioxidants!
Chia Seeds | Fiber, Omega 3's, Protein, B vitamins just to name a few, not to mention they're incredibly filling.
Spirulina | Proteins, Amino Acids, Omega 3's, Iron, and a ton ton ton of vitamins.
Maca Powder | Amino Acids, Vitamins B, C & E, Iron, Calcium, Zinc, Magnesium and so much more.
Cute Smoothie Mason Cups | You actually DO need these. Not only are they cute, but they keep your hands from getting cold while you're holding the cup. Cute and practical, what more do you need?
Frozen Fruit | This is self explanatory, I think.
Frozen Kale or Spinach | Freeze your veggies too so they stay fresh longer! And switch up your greens each time, but make sure to always add at least one handful to every smoothie. It adds so much nutrition without changing the taste!
Organic Juice (not from concentrate)
Coconut Water
Coconut or Almond Milk
Organic Kefir Yogurt
Protein Powder |
PB Fit (or any PB powder) | 
For most of my smoothie ingredients, especially the superfood add ons, I always shop through Vitacost because I really have found them to have the best prices.
* Always first shop Vitacost through Ebates, Extrabux, or Top Cash Back links to earn extra cash back off every order! I check them all first to see which is offering more cash back.
Vitacost |
Ebates |
Extrabux |
TopCashBack |
Okay, now for the two Smoothie Recipes I make most often.
Post Workout Creamy PB Chocolate Banana Protein Smoothie 
1 cup unsweetened coconut milk (45 calories)
1 handful of ice
1 frozen banana
1 scoop of Green Zone
Superfood Tropical Smoothie (for 2)
1 cup of organic apple juice (not from concentrate)
1 cup of organic kefir yogurt
1.5 cups of frozen kale or spinach
1.5 cups frozen pineapple
.5 cup frozen mango
.5 cup frozen organic strawberries
1 banana
1 tbsp chia seeds
1 tsp maca powder
How about you? Do you drink smoothies? I'd love to hear your favorites in the comments below!
And if you need more ideas for healthy snacks this season, check out this post.
*******************
Summer Saldana is one of those women who certainly isn't trying to hide anything — except maybe what is behind her beloved bangs. She is refreshingly open about her mommy meltdowns (she has 2 children, but one is strong willed, so it's more like 4), her faith, and her obsession with bargain shopping and makeup/skincare hauls. But whether it's through writing, speaking, or the missions work she & her family do, Summer's greatest passion is connecting with others. Connect with Summer on her blog, on Instagram, or on Youtube.
SaveSave