Last-Minute Mason Jar Gifts for #LoveYourLifeFriday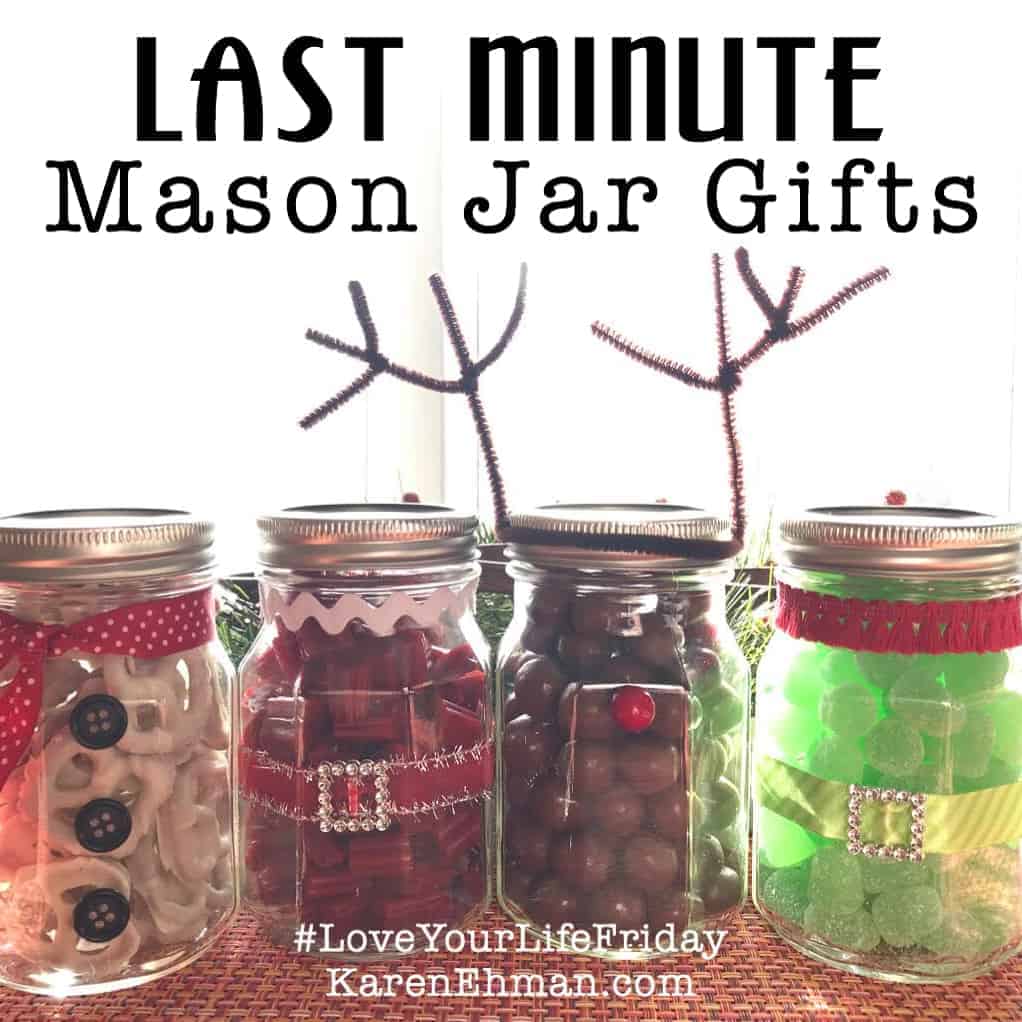 I'm sure most of us have experienced the panic that follows one of our dear children (or spouse) "remembering" at the last minute that they need a secret santa or teacher gift for the next morning.
At my house this normally happened about the same time that I put on my comfy clothes and sat down for the evening. I've got a fun solution for you that your kids can help with this weekend instead of waiting for the last minute. You can even use these cute jars as decoration until they are needed for gift giving!
Supplies:
Mason jars or any clear jar with a lid (I used pint jars)
Various candy
Ribbon or ric-rac scraps
Buttons
Pipe cleaners
Hot glue gun
I chose my candy colors to match the character that I planned to decorate the jar, so brown for the reindeer, red for santa, white for snowman and green for the elf.
Fill each jar with candy before you decorate them.

Next choose a jar and start decorating.
For the snowman I added three black buttons and a ribbon scarf.

The reindeer got a red nose and pipe cleaner antlers.

To make Santa I added a shiny buckle and red ribbon for a belt and ric-rac around the neck.

The elf also got a shiny buckle with green ribbon and red fringe around the neck.

You can gift these individually or as a set!

Have fun!
**********************************
April Wilson is from a small Midwestern town in Michigan where she has lived since she was in elementary school. She married her high school sweetheart and has two young adult children As a family they love to camp. When she's not working full-time at her "real job," she escapes from the everyday stresses of life through sewing and crafting. Check out her creations like these super cute aprons in her Etsy shop.
SaveSave
SaveSave
SaveSave
SaveSave
SaveSave
SaveSave
SaveSave
SaveSave