Five Fab Freezer Meals for #LoveYourLifeFriday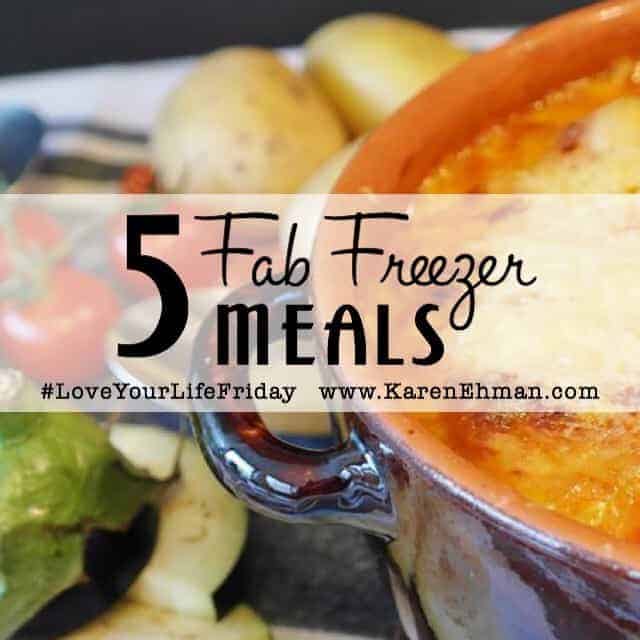 As we usher in a busy new year, finding time to plan our family dinners becomes more and more difficult. I received the best advice from an older woman at church when I was newly married:
"Cook once. Eat twice."
When you cook a meal, make it a habit to double it. That way you're only cooking once but your family will be able to eat twice. Freezer meals work great for this! Double the recipe. Wrap one tightly in foil and pop it in the freezer. Then you will be able to pull it out on a busy day and effortlessly have a main dish ready without taking time or making a mess. I took her advice and have done this for years.
But this little trick doesn't just save us time; it can also be a way to help out someone else as well. Think of someone in your life who might be able to use a good freezer meal. Do you know someone who recently gave birth or adopted a child? Is there someone dealing with a death in their family? Is someone in the process of moving who is up to their eyeballs in boxes? Is a family at church busy preparing for a wedding, leaving them little time to cook?
Choose one of these families to give your extra meal to. They can pop them in the oven the day you deliver them or stash them away in the freezer for a crazy-busy or stressful day yet to come.
By spending just a little extra time making a double batch, you will be blessing another family or individual with some yummy food and saving them time as well.
Here are five of my favorite go-to freezer meals:
Cheesy Chicken Enchilada Casserole
Creamy Tetrazzini
Broccoli and Swiss Quiche
Potato and Cheese Stuffed Barbeque Meatloaf
Italian Stuffed Shells
If you'd like the recipes, click HERE to download and enjoy!
Want more freezer/batch cooking recipes? Check out the Ultimate Healthy Meal Planning Bundle. It includes 101 e-resources full of recipes ((including freezer/batch cooking), ready-made meal plans, and more for 96% off! ENDS TONIGHT!
affiliate links may be included. I only recommend products I know my readers will love.

SaveSave
SaveSave
SaveSave
SaveSave
SaveSave
SaveSave
SaveSave
SaveSave
SaveSave
SaveSave
SaveSave
SaveSave
SaveSave
SaveSave