Super Bowl Snack Ideas (and Recipes)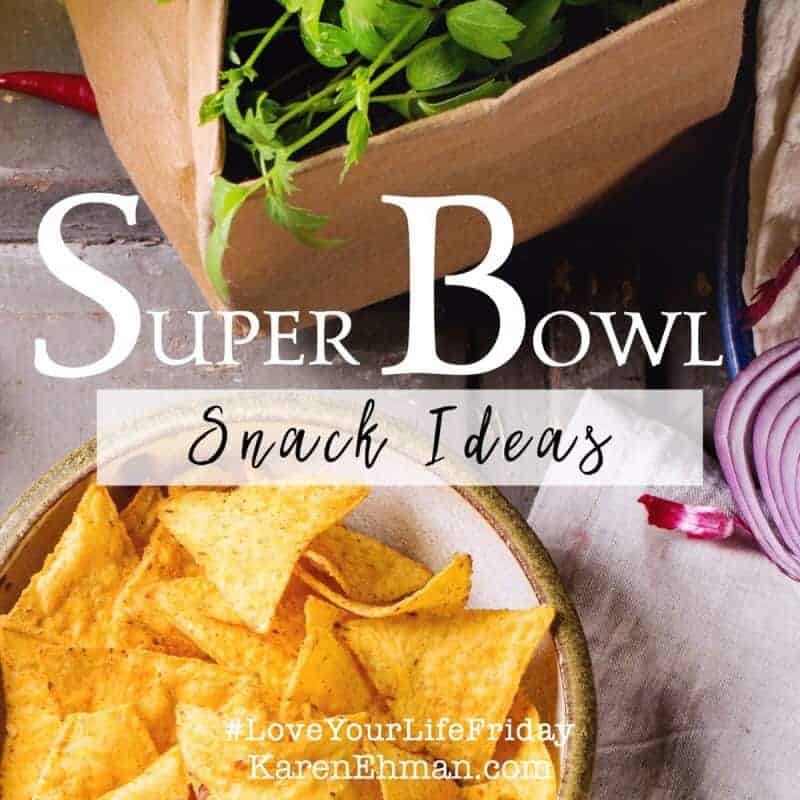 Here are some simple snacks you can have ready in a snap for the big game. Most can be made ahead. You're welcome :-)
Cheesy Crab Bites
I just found this recipe at a delightful retreat I spoke at a few years ago in West Texas. I do not care for crab but I LOVED these.
1 jar Kraft Old English spread
6 T butter, softened
2 t. mayonnaise
1/2 t. garlic powder
1/4 t. seasoning salt (like Lawry's)
1-  6 ounce can chunk crab meat, drained
1 package Bays English Muffins ( I use only this brand. Thomas are also good but I wouldn't use off brands)
Mix all but muffins, blending well. Spread on muffins halves. Place on cookie sheet and freeze for 30 minutes. Cut into quarters. Store in freezer bags or bake immediately. To prepare, broil 6-8 inches from heat for 5-8 minutes until golden and bubbly.
Trash-Talkin' Hash
Serve with hearty corn chips for dipping. Yum!
2 cans black beans, drained
3 C frozen corn, thawed and drained
1 red pepper, chopped fine
1 medium red onion, chopped fine
2 1/2 C feta cheese crumbles
3/4 C white vinegar
1/3 C olive oil
1/3 C white sugar
salt and pepper, to taste
Mix vinegar, oil, sugar, salt and pepper. Pour over remaining ingredients. Store in fridge at least 2 hours. Drain slightly. Enjoy!
Asparagus Rolls
Unique and yummy!
16 ounces canned asparagus, drained
A loaf white bread
Melted butter
Mixture:
1/2 block cream cheese, softened
1/4 C parmesan cheese
1/4 t garlic powder
1 T butter, softened
Blend the mixture ingredients well. Cut crusts off of bread slices (as many as there are spears of asparagus) Pound bread flat. Spread with a layer of cream cheese mixture and lay a spear from corner to corner. Fold other corners up and secure with tooth pick. Place on greased cookie sheet. Brush well with melted butter. (Can freeze at this point) To prepare, bake at 400 degrees for 10-12 minutes. Delish!!!
Sour Cream Fruit Dip
Great with strawberries, sliced apples, orange sections and pineapple spears.
Melt 1 stick butter with 1 1/2 C brown sugar. Cool. Stir in  16 ounces sour cream and 2 t vanilla. Chill well before serving.
********************
If you're looking for some clean eating snacks, my friend Katie Farrell has you covered with Dashing Dish: 100 Simple and Delicious Recipes for Clean Eating. It's an inspirational cookbook chock-full of healthy, innovative yet simple recipes, most of which are gluten-free, sugar-free, and abundant in whole grains. Yummy!