Cappuccino Chocolate Chip Muffins for #LoveYourLifeFriday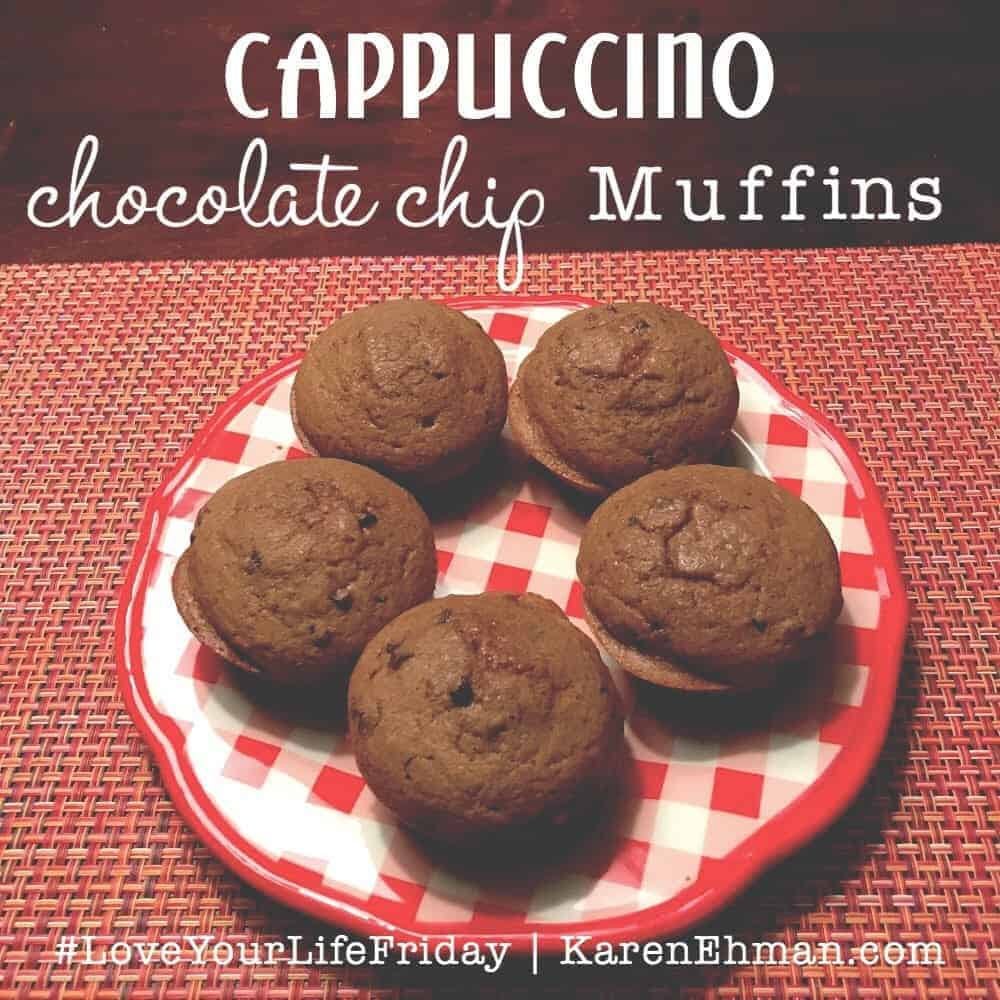 A friend of mine gave me this muffin recipe several years ago and they quickly became a family favorite in our house. I usually make a double batch and put some in the freezer to pull out for a quick breakfast later or share with a friend over coffee.  I hope you enjoy them as much as my family does!
Recipe:
4 cups all-purpose flour
1½ cups sugar
5 teaspoons baking powder
2 teaspoons ground cinnamon
1 teaspoon salt
2 cups milk
4 tablespoons instant coffee granules
1 cup butter, melted
2 eggs
2 teaspoons vanilla extract
1½ cups miniature semisweet chocolate chips
In a large bowl, combine the flour, sugar, baking powder, cinnamon and salt.
In another bowl, combine milk and coffee granules until coffee is dissolved. Add the butter, egg and vanilla.
Stir into dry ingredients just until moistened. Fold in chocolate chips.
Fill greased or paper-lined muffin cups two-thirds full.
Bake at 375° for 13-15 minutes or until a toothpick inserted near the center comes out clean.
Yield: About 2½ dozen muffins
Cool for 5 minutes before removing from pans to wire racks. Cool completely before putting in the freezer.
**********************************
April Wilson is from a small Midwestern town in Michigan where she has lived since she was in elementary school. She married her high school sweetheart and has two young adult children As a family they love to camp. When she's not working full-time at her "real job," she escapes from the everyday stresses of life through sewing and crafting. Check out her creations like these super cute aprons in her Etsy shop.
**********************************
P.S. In case you missed it, we're #doinglenttogether again this year on Facebook. Click HERE for all the details.
SaveSave
SaveSave
SaveSave
SaveSave
SaveSave