Healthy Shrimp Fried Rice Meal Prep Bowls for #LoveYourLifeFriday
These Shrimp Fried Rice Bowls are the perfect thing to make for meal prep! They are made with less than 6 ingredients, in under 25 minutes, and are low carb, high in protein, and are truly satisfying!
They make a delicious make ahead lunch or dinner, and stay fresh for up to 5 days in your fridge, or can even be made ahead of time and frozen for a busy week!
Ingredients:
8 cups Cauliflower rice or 1 1/2 cups uncooked rice or quinoa
2 cups Water
16 oz Shrimp, peeled and deveined
2 tbs Garlic
1 cup Frozen diced onion 
2 cups Frozen diced carrot & pea mixture
2 Eggs (optional)
1/4 cup Reduced sodium soy sauce 
Method:
In a large skillet, add the water and cauliflower, and cover. Bring the water to a boil over high heat, then reduce heat to medium high to simmer for about 3-5 minutes, or until cauliflower rice is steamed to your liking. Drain excess water by dumping cauliflower in a colander. Set aside. (If using rice or quinoa, cook according to package directions).
Heat the same skillet over medium high heat and spray with cooking spray. Add shrimp and cook, stirring occasionally, until pink, about 2-3 minutes; set aside. (Scramble and cook the eggs in the pan and set aside at this point if using).
Add garlic and onion to the skillet, and cook, stirring often, until onions have become translucent, about 2-3 minutes.Stir in carrots and peas. Cook, stirring constantly, until vegetables are tender, about 3-4 minutes.
Stir in cauliflower rice and soy sauce. Cook, stirring constantly, until heated through, about 2 minutes.
Divide rice mixture into Tupperware or individual containers of choice. Top each with 4 oz shrimp. Store in the fridge for up to 5 days, or freezer for up to 3 months.
********************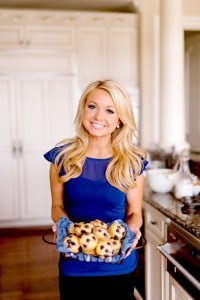 Katie Farrell is the founder of Dashing Dish, a healthy recipe website and ministry to women. Katie is a registered nurse from Michigan, where she lives in Brighton with her husband of five years. Dashing Dish is a combination of Katie's passions—helping women find their identity in God and ending misconceptions about healthy eating.
Katie wants to inspire women to find the balance between spiritual and physical health, all while enjoying the journey! Her newest book is Nourish: Discover God's Perfectly Balanced Plan for Your Body and Soul.
Looking for some more yummy recipes? Check out Katie's cookbooks: Dashing Dish: 100 Simple and Delicious Recipes for Clean Eating  and Devotions for a Healthier You .